Wednesday, November 5, 2014
Fall is one of my favorite times of year because you can really play around w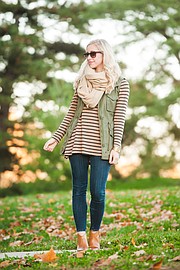 ith different looks and trends. One of the best parts is how you can take pieces from spring and summer and layer them into fall looks.
I'm a huge fan of recycling clothes and wearing them year-round if you can. The look I'm wearing in the accompanying photo has a lot of layers that will keep you warm, but it also adds some depth and texture.
As I've said before, a good pair of skinny jeans is a great investment because they can be worn throughout every season.
I like a pair that stops just above the ankles. If you have a pair that is longer, you can always roll them to get the length you want.

I like to pair my skinny jeans with low-rising ankle boots and making sure you can see some skin between the top of the boot and the bottom of your jeans. Any ankle boot would work. I chose a boot with a small heel, and I absolutely love the color. I also wore these ankle boots this spring and summer with a flowy dress.
If you want something taller, opt for a wedge ankle boot. They're still somewhat comfortable for running around during the day.

I love to add an oversized shirt over the top of the jeans. The top I'm wearing is long-sleeved and long and flowy. The color also complements the color of the ankle boots. A lightweight sweater would be an alternate option if you don't have a long-sleeved top.

Layered over the top of that is a green vest (one I wore many times over dresses and T-shirts this summer). This vest is so versatile and is a great complement to any look. Just as I wore this over a summer dress, you could also wear it over a long-sleeved winter sweater dress. It's a great piece to have in your closet.

My favorite part of this outfit is this incredibly comfortable infinity scarf. I wrapped it around twice so it appears very full and warm around my neck. You could wear it just once around and have it hang down along the vest as well.
However you choose to layer your outfits, remember there are always pieces in your closet that you can recycle and wear during each season. Layering is always the best way to add some flair to your look without much effort.
— Emily and Elizabeth Kennedy are twin sisters and fashion bloggers who share a blog called Fashion Column Twins at fashioncolumntwins.com. Emily writes this column. They can be reached at fashioncolumnblog@gmail.com.