Wednesday, November 5, 2014
Some things are worth repeating. Here is a checklist of things to do each year to prepare your home for the winter.
Step 1: Remove screens and put up storm windows. Seal windows without storms with clear plastic sheeting. Pre-packaged window kits with double-sided tape are easy to install and surprisingly energy efficient.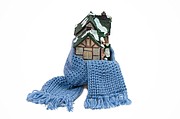 Step 2: Change the furnace filter, cover the air conditioner and reverse the direction of each ceiling fan. Ceiling fans should rotate clockwise in the winter and counterclockwise in the summer.
Step 3: Seal up new cracks and crevices inside and outside your home. Homes move and shift over time, creating new gaps and voids. Look for gaps where different materials meet, such as brick and siding, wood and plaster, flooring and drywall. Remove worn or loose caulk and replace it with a premium-quality flexible caulk. Use caulk cord, weather strip or spray foam insulation to fill larger voids and gaps.
Step 4: Examine exterior door seals. Replace worn or compromised weather stripping on the sides and top of the door jamb to ensure an air-tight seal. Replace worn or missing door sweeps and thresholds.
Step 5: Check existing heat tapes installed on water lines to make sure they are functioning properly. Waterlines running through crawl spaces or unheated areas of the home need to be protected from freezing with heat tape and insulation.
Step 6: Disconnect garden hoses and cover outdoor spigots with a Styrofoam cap to prevent waterlines from freezing.
Step 7: Store away lawn furniture, empty flower pots and drain rain barrels to avoid damage from frozen water.
Step 8: Empty the gas from all power equipment. Use up remaining gas in extra cans stored in the garage or shed. Gas stored through the winter is the most common cause of equipment failure in the spring.
Step 9: Prune back shrubs and perennial plants. Spread a thick layer of mulch around plants and trees to protect their roots from the bitter cold. Keep mulch a few inches from the tree trunks to prevent moisture damage.
Step 10: Clean the gutters and trim back tree branches near the home to minimize damage from snow and ice.
Step 11: Check the roof for any loose or missing shingles. Seal flashings around chimneys and vent pipes. Brush on a clear, ultra-elastic roof sealant to coat problem areas for extra protection against water damage.
— Have a home improvement question you want answered by the Fix-It Chick? Email it to Linda Cottin at LawrenceLiving@ljworld.com.