Wednesday, November 5, 2014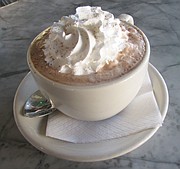 Now that fall has officially hit its stride, the winter months aren't far off. It may be time, then — for those of you who like to break out the twinkle lights and holiday jams before Thanksgiving — to once again enjoy that favorite wintertime drink: hot chocolate. It's a treat that's often tied to childhood memories, but the folks at Milton's Café are shaking things up a bit with an adults-only version spiked with bourbon.
The drink starts with a hefty base of Hershey's hot cocoa (it's made with whole milk, but you can ask for lower-fat options) and a shot of Bulleit Bourbon. The bourbon's high rye content packs a punch, but a generous swirl of whipped cream helps soften the taste. A sprinkle of cinnamon tops off the whole thing.
The hard stuff: Bulleit Bourbon
Where it's served: Milton's Café, 901 New Hampshire St.
What it costs: $8
Other libations at this location: Milton's Café serves up a variety of breakfast cocktails, including a mimosa, bloody mary, Kahlúa latte and an Irish coffee. Of course, if you're looking for non-alcoholic day-starters, there's always plain old coffee and tea.
— Drink up. Stay classy. Don't forget to tip your bartender. And let us know if you want to suggest a libation for this feature — email jhlavacek@ljworld.com or Tweet her at Twitter.com/hlavacekjoanna. Cheers.