Wednesday, November 5, 2014
Lucinda Williams is a "gypsy at heart."
That's how the country singer-songwriter describes herself during a chilly, overcast afternoon in Oklahoma City — more than 1,000 miles from her home base of Los Angeles — earlier this week. Williams, who kicked off a month-long tour Sunday in Denver, had just stopped in the Sooner State to let her bus driver get some sleep before continuing on to Austin.
At 8 p.m. Friday, Williams will make a stop at Liberty Hall, playing songs from her latest album, the critically acclaimed "Down Where the Spirit Meets the Bone."
But at just after 4 p.m. Tuesday, she's barely emerged from her own nap, and could use a little pick-me-up.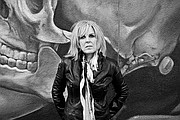 "Sorry, I'm kind of in the middle of something," says the 61-year-old Williams, her voice cracking over the phone. "I just got up and I need some tea, and the kettle isn't working."
Life on the road can wear you out, Williams says, but she's used to it.
The daughter of acclaimed poet and professor Miller Williams, she spent her childhood hopping from one Southern college town to the next, even relocating to Santiago, Chile, and Mexico City for one-year spans during her adolescence.

"Other kids might not have [liked it], but I don't recall it ever being a problem for me," Williams says of the frequent moves. "It was sort of an adventure, you know. I think it really broadened my horizons."
Williams revisits her unconventional upbringing on "Down Where the Spirit Meets the Bone," which was released in September. The double album is Williams' first release on her own Highway 20 Records, itself a reference to the route that connects the Southern communities in Georgia and Mississippi that Williams grew up in.
The album is a walk down memory lane for Williams, who conjures up some swampy, spooky imagery in "Something Wicked This Way Comes," a hellfire-and-brimstone number influenced partly by her family's religious background (both grandfathers were Methodist ministers) and her longtime literary heroine, Flannery O'Connor.
When Williams was 4 years old, she and her father — a mentee of O'Connor — visited the famous Southern Gothic writer at her farm in Milledgeville, Ga.
"She raised peacocks, and according to my dad, I was running around chasing the peacocks," Williams recalls with a laugh.
About a few years later, a teenage Williams read O'Connor's works for the first time and fell in love with the grotesque, flawed characters that Williams says felt familiar to her as a young girl in the Deep South.
She also cites fellow Southerners Eudora Welty and Carson McCullers as major influences.
If you go
What: Lucinda Williams concert
Where: Liberty Hall, 644 Massachusetts St.
When: Doors open at 7 p.m. Friday. The show starts at 8 p.m.
Cost: Tickets cost $29.50 for the upper balcony only, and $35.50 for the floor and lower balcony. They can be purchased online or at the Liberty Hall box office.
But no writer has a bigger presence on the album than Williams' father, whose Alzheimer's diagnosis about five years ago inspired her efforts to finally rework one of his poems into a song.
The result, "Compassion," shares its title with the Miller Williams work that inspired it.
"It's a tribute to my dad," says Williams, who admits she's been meaning to tackle the project of adapting his work for years. "It's hard to take a poem and turn it into a song."
Though he didn't give any input during the making of the song, Williams said Miller was pleased with the results.
The first time she played the song for him, Williams was performing at a music festival in his hometown of Fayetteville, Ark. Her 84-year-old father couldn't make it, so she and her husband, manager Tom Overby, put on a "little concert" for him at home.
Surrounded by a handful of close friends, Miller read his poem before his daughter sang its musical adaptation.
"It made him feel good," Williams says simply.
The song lends one of its lines to the name of the album. "You can't get much deeper than that," Williams says of "Where the Spirit Meets the Bone."
These days, Miller is doing well, generally speaking — he still recognizes people, William says. His disease, however, has taken away his ability to write poetry.
It's especially poignant, then, that Williams includes a message to her father in the liner notes of the album:
"As Flannery O'Connor was to you, you were my greatest teacher," she writes. Thank you."