Wednesday, November 5, 2014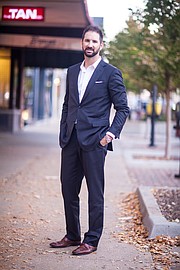 Name: Dan Mason
Age: 39
Hometown: San Clemente, Calif.
Time in Lawrence: Coming on 24 hours now.
Relationship status: Married
Occupation: Mortgage banker
Dream job: I'd be drag racing.
What were you doing when scouted? Just came from a conference
Describe your style: I'd like to say modern with a little bit of flair. You might note the purple laces and the crazy socks. I may have a suit on for a business meeting but I'm going to have a little pop in the socks or shoes.
Fashion trends you love: I'm very much into the slim-cut, hug-your-bodyline kind of thing. I'm tall and skinny so when skinny jeans came around, I was a big fan of them. Overall, I really like modern slim-cut [pieces] that help define your body.
Fashion trends you hate: The audacious, over-the-top, [logo-laced] looking for attention Dolce and Gabbana kind of style, is not for me.
Fashion influences: Pinterest. My wife turned me onto that. It's great fun learning how to pair certain clothes with each other.
What would you like to see more or less of in Lawrence? I'd like to see more vintage shops and more of Lawrence's charm. Less of? I don't know. Everyone has been super nice so far.
Tattoos or piercings: A tattoo of a sun [from the band Godsmack]. I had piercings when I was young and awesome but now I'm a dad with a corporate job.
Whom do people say you look like? At my kid's football game, a couple of teenagers asked me if I was a singer [David Macklovitch] from Chromeo... I'm pushing 40. I don't know what kids are listening to.
What type of music do you like? Hard rock! I like loud screaming guitars.
Tell us a secret: There's a side of me that thinks in another life I was born in midtown America like Lawrence, Kansas. As much as I enjoy big-city, fast-pace kind of life there's something very appealing about the slower pace and the different vibe that Lawrence offers.