Wednesday, November 5, 2014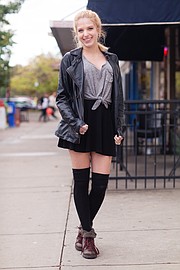 Name: Sam Sperke
Age: 19
Hometown: Olathe
Time in Lawrence: A year
Occupation: I'm a server.
Dream job: Next year, I'm going to get my real estate license.
What were you doing when scouted? Grabbing some food
Describe your style: It's boho-chic on a good day. On a bad day, I don't know.
Fashion trends you love: I don't really follow any trends. It all comes down to whatever stands out and hits my eye.
Fashion trends you hate: I can't stand overalls. I hope that trend, along with suspenders, is over!

Fashion influences: Instagram and Tumblr
What would you like to see more or less of in Lawrence? More variety when it comes to the college girl fashion scene. It's usually the leggings with the big oversize shirts. One day, I saw four or five of them walking around in the same outfit. Less of? Oversize shirts.
Tattoos or piercings: None
Whom do people say you look like? A star!
What type of music do you like? Alternative and electronic dance music.
Tell us a secret: I'm obsessed with the show "Keeping up with the Kardashians"