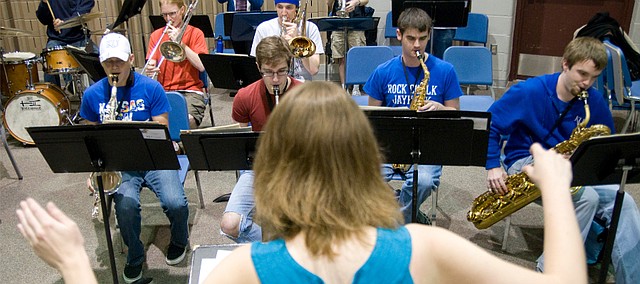 Wednesday, November 5, 2014
Today in Lawrence
is an early-morning digest of essential and not-so-essential info to start your day in Lawrence and Douglas County.
Click here
for past installments.
Pure perfection
Today's weather celebrates an campaign-commercial-free day with picture-perfect weather. Mostly sunny skies complement a high temperature of 69 degrees. The winds will be from the southwest at 10 to 20 mph. Overnight will see a low of 38 degrees.
Spanish film festival
¡Vamos! Spanish Language Film Festival brings contemporary international films to Lawrence, celebrating the vibrant film cultures of Chile, Mexico, Costa Rica and Brazil. This month-long film festival will explore history, stories and the world we create.The film "Xingu" screens at 5:30 p.m. at the 309 Auditorium, Spencer Museum of Art, 1301 Mississippi St.
Jazz and Brasil
The University of Kansas Jazz Ensemble I will collaborate with the Kansas City-based group The Sons of Brasil for a special performance at 7:30 p.m. at the Lawrence Arts Center. For this event, KU faculty and current and former student composers have written new arrangements of selections from The Sons of Brasil's catalog to include a big band. Tickets are $10 for adults and $5 for seniors and students. The Lawrence Arts Center is at 940 New Hampshire St.
Yesterday's most-read
More Nov. 5 events
1 Million Cups presentation, 9-10 a.m., Cider Gallery, 810 Pennsylvania St.
"Welcome to Medicare" information session, noon, Lawrence Senior Center, 745 Vermont St.
Big Brothers Big Sisters of Douglas County volunteer information, noon, 2518 Ridge Court.
ECM University-Community Forum: On Venezuela by Kim Morse, noon-1 p.m., ECM Building, 1204 Oread Ave.
"The Siege of Budapest: Decisive Battle Against Nazism" with Sean Kalic, 3 p.m., Dole Institute, 2350 Petefish Drive.
Steak/Salmon Night, 5-7:30 p.m., Eagles Lodge, 1803 W. Sixth St.
Douglas County Commission meeting, check website at douglas-county.com for meeting time, Douglas County Courthouse, 1100 Massachusetts St.
Public forum on Horizon 2020 and community development, 6-8 p.m., Lawrence High School Cafeteria,1901 Louisiana St.
Faith Forum: Peace and War through the Eyes of Chaplains, 6:30 p.m., Ecumenical Campus Ministries, 1204 Oread Ave.
American Legion Bingo, doors open 4:30 p.m., first games 6:45 p.m., snack bar 5-8 p.m., American Legion Post 14, 3408 W. Sixth St.
Women's Leadership Series 2014: Women Running for Office, 7 p.m., Dole Institute, 2350 Petefish Drive (RSVP to 864-4900 or DoleInstitute@ku.edu)
Author Reading: Elizabeth Schultz, 7 p.m., The Raven Book Store, 6 E. Seventh St.
Meet Our Artists in Residence, 7 p.m., Lawrence Arts Center, 940 New Hampshire St.
Ballroom/Latin Dance Class, 7-8:30 p.m., Big Six Room, Eldridge Hotel, 701 Massachusetts St. (No partner required.)
Author Discussion: "Chasing Weather" with Caryn Mirriam-Goldberg & Stephen Locke, 7-8:30 p.m., Lawrence Public Library, 707 Vermont St.
Conroy's Trivia, 7:30 p.m., Conroy's Pub, 3115 W. Sixth St.
KU SUA & KJHK 90.7 FM present: SZA, 8 p.m. doors, 9 p.m. show, Liberty Hall, 644 Massachusetts St.
Pride Night, 9 p.m., Wilde's Chateau, 2412 Iowa St.