Saturday, November 8, 2014
Sally Sanko loved to sing as a girl — just not when anyone else was around.

Sanko, now 25, would lock herself in the bathroom, light some candles, draw a bath and turn up the Mariah Carey tunes. There in the solitary comfort of the tub, Sanko let her inner diva out with a few Mariah-esque vocal riffs.
"I'd sing and think no one could hear me, but it turns out my whole family is outside the door listening," she recalls over drinks with a few girlfriends at Henry's Upstairs in downtown Lawrence.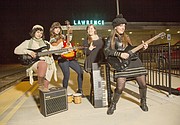 If you go
What: "Dang GRL," a fundraiser for Girls Rock! Lawrence
Where: Lawrence Creates Makerspace, 512 E. Ninth St.
When: 6:30 p.m. Friday
Cost: Cover charge is $5.
Though it's easy to look back and laugh at that time now, Sanko doesn't want the next generation to struggle with the insecurities she felt growing up.
It's time for girls to find their voice and own it, she says.
Sanko, along with Lawrence musicians Monica George, Angie Schoenherr and Kelly Nightengale, are the founding members of Girls Rock! Lawrence, a recently formed organization that aims to empower girls through music.
The women are planning a week-long camp where girls in grades 7 to 12 will form bands, collaborate on original music and, at the end of the week, perform their songs in a talent showcase.
A team of all-female volunteers will teach the workshops, which Girls Rock members want to make financially accessible for as many girls as possible.
To make it happen, they're going to need a little help.
On Friday evening, Girls Rock will host a fundraiser at Lawrence Creates Makerspace, 512 E. Ninth St. The event will feature drinks, a raffle, an art auction, and, in keeping with the group's spirit, live music from predominantly female bands.
"We just want younger girls to see women doing all the roles," says Schoenherr, 26, who insists the move is not about excluding men. "Whether it be setting up gear or playing instruments or leading, we just want them to see examples of women in those roles that are normally male-dominated."
As far as gender equality in music goes, "there's a lot of catching up to do," says Kelly Nightengale, 44.
Back at the bar, the women swap similar tales from their self-conscious adolescent periods — of wanting to join drum line in high school but feeling excluded by its "boys club" nature; of not feeling confident enough to learn guitar or bass because those are "instruments that men played."
"I wish I would have had something like this as a girl, because too often I think girls are the groupies or the fans of the music. They follow their boyfriends' bands around," Sanko says. "And that's what I was like as a teenager, but no one ever once put it in my head that I should try picking up the guitar and try my own thing."
Creating a safe, noncompetitive environment for girls is one of the group's top goals, Schoenherr says.
She says our beauty-obsessed society has a tendency to pit women, specifically young girls, against each other — a never-ending battle that no one wins.

Girls Rock organizers hope to "instill values of self-worth beyond appearance," and teach girls to find confidence in knowledge, skills and talents.
Music, the women agree, can be an especially effective tool in that process.
When girls work with and not against each other — forming their own bands, writing their own music and performing together — long-lasting bonds are created, says Schoenherr, who has experienced a similar effect just by planning the camp with her fellow board members.
"Culturally, we all have to compete for resources, and we want to try to subvert that with the fact that when you share resources and support each other, there's more for everyone," agrees Nightengale.
Earlier this year, the group's organizers watched young campers perform original songs at CoMo Girls Rock, a similar project based in Columbia, Mo.
Sanko, who now admits she had initially tagged along "just to hang out," was immediately sold on the concept once she heard the girls rock out on stage.
"I was really empowered by watching these little girls play songs that I couldn't get out of my head for weeks," she says. "They're still not out of my head, actually."
With the Lawrence camp tentatively slated for this summer, Girls Rock organizers are still trying to secure essentials such as a venue and instruments for campers.

It's all in the beginning stages now, but Girls Rock member Monica George, 24, says there's already an excitement building around the camp.

A few people have come forward, pledging their time — and in one case, a drum kit — months in advance.
"Any parent that I've met that has teenage girls is just so overwhelmingly happy. A lot of moms are like, 'I hear my daughter sing in the shower, but she's too scared to sing in front of people," George says. "And I always tell them, 'She needs to come to Girls Rock camp.'"