To celebrate newly re-elected governor Sam Brownback's decision to reinstate the Kansas Arts Commission and restore education funding to just above the legally mandated minimums, this week's column is going to highlight a special lineup of Kansas City arts events.
Wait, that didn't really happen? My mistake. Oh well. Kansas City is mostly in Missouri anyway.
All jokes aside, Kansas City this week will indeed provide an escape for any Kansans tired of being chided for the cultural philistinism of their democratically elected leaders.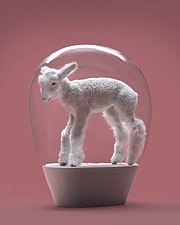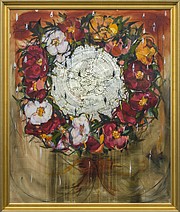 At the Haw Contemporary gallery, at 1600 Liberty St. in the West Bottoms, nationally renowned artist Peregrine Honig has created a series of large-scale paintings, sculpture and installations for her solo show, "Unicorn."
The works of art explore the art and social phenomenon of the selfie, doubling as stage sets for viewers to take their own self-portraits. The newly opened exhibit is viewable from 9 a.m. to 5 p.m. Tuesday through Friday, and from noon to 5 p.m. Saturday, through Dec. 6.
Honig was recently in the news for the Royals-themed "Take The Crown" underwear she designed and sold, which was confiscated by Department of Homeland Security agents for copyright infringement. No kidding.
The final group art show organized by Charlotte Street Foundation's curator-in-residence, Danny Orendorff, opened this weekend at La Esquina (1000 W. 25th St.) and runs through Jan. 3, 2015. "Loving After Lifetimes of All This" features the work of 15 national and local artists, including Lawrence's own Judity Levy and Gina Adams.
The selections in Orendorff's previous shows have explored themes of social justice and cultural resistance, and "Loving" promises to do the same, examining the history of craft within different disadvantaged populations.
Gallery hours at La Esquina are Wednesday, Friday and Saturday from noon to 5 p.m. and Thursday from 11 a.m. to 6 p.m.
From 1 p.m. to 4 p.m. today, The Black Art in America Contemporary and Fine Art Show will be on display at the Black Archives of Mid-America, which is near the historic jazz district at 1722 E. 17th Terrace.
The exhibit is the first of four planned pop-up art events in the organization's "Soul of Art" series. Visit blackarchives.org for more information about the center's permanent exhibits and special events.
Author events
Rainy Day Books continues its stellar run of author events with a Tuesday night multimedia presentation by Cmdr. Chris Hadfield, who is viewed as one of the most famous astronauts in the world. Hadfield's new book, "You Are Here: Around the World in 92 Minutes" is his personal tour of the Earth from (far) above, illustrated with a stunning array of photographs.
To RSVP to the event and book signing, which will be held at Unity Temple on the Country Club Plaza, visit rainydaybooks.com/chrishadfield.
The next night, comedian John Cleese returns to Kansas City for a conversation with Rainy Day Books founder Vivien Jennings.
The event will be held at 8 p.m. Wednesday at the Arvest Bank Theatre at the Midland. Tickets are $38.50 and include a signed copy of Cleese's new book, "So Anyway."
On Saturday also at the Midland, the namesake of CBS's "Late Late Show with Craig Ferguson" will bring his "Hot and Grumpy" tour to Kansas City. Tickets to see the Scottish-born comedian range from $39.50 to $65.
K.C. Symphony
The rest of the month offers several stirring performances from the Kansas City Symphony, starting with Saturday's 8 p.m. concert featuring vocalist Natalie Merchant, the solo artist who first found fame with the band 10,000 Maniacs.
Tickets start at $35 and are for sale at kcsymphony.org.

The following weekend, Michael Stern returns to the conductor's podium for a program including Ravel's "La Valse," Bernstein's "Serenade," Sibelius' "Symphony No. 3" and a selection from Richard Strauss's controversial "Salome." The program will be performed at 8 p.m. Nov. 21 and Nov. 22, and again at 2 p.m. Nov. 23.
And from Nov. 28-30, conductor Bramwell Tovey, solo pianist Orion Weiss and the Kansas City Symphony Women's Chorus will present Debussy's "Clair de Lune," Mozart's "Piano Concerto No. 23" and Holst's epic "The Planets."