Wednesday, November 12, 2014
As scarlet leaves fall to the frosty, gray branches of November, my favorite comforts become knitting and tea. They're simple treats, but, with winter beginning to hint at its coming, their importance to my morale is hard to overstate.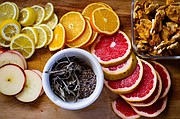 For the knitting, you'll have to find a wise grandmother or look into the Yarn Barn's classes. But if a pipping hot cup of tea sounds cozy to you, too, I've got you covered.
My favorite tea, by far, is an herbal Citrus Lavender Sage blend made by Teavanna. Unfortunately, it's not cheap. Also, it has just a few weird-ish ingredients that I'm not sure I approve of. "Dried orange juice bits," for example. How do you do that, even?
As such, sometime last winter, I decided to try a knock-off version. As with most "designer impostors" it's not perfectly the same. But it is close and it is good.
A few notes before you get started.
First, the last time I made this I was able to buy dried pineapple, but couldn't find dried citrus or apples. Obviously, if you can find those things, you could save yourself a step.
Second, in that same vein, feel free to make substitutions according to what fruit you can get your hands on. I haven't tried it yet, but I think a handful of dried cranberries, for example, would be a delicious addition to this recipe.
Last, using whole fruits means this makes a lot of tea. Don't let that scare you away, though. Remember that holiday party season is coming, and — decanted into pretty, half-pint jars — this tea will make a slew of homemade hostess gifts.
Citrus Tea
Makes about a half-gallon jar
6 ounces dried pineapple
1 grapefruit
1 orange
2 lemons
1 apple
1 tablespoon dried sage leaves
1 tablespoon dried lavender
First, you need to dry the citrus and apple. If you have a dehydrator, slice the fruit into thin slices, arrange it on the trays and flip the switch.
If you don't have a dehydrator, never fear — just dry the citrus and apple slices on bake sheets in your oven, using the lowest temperature your oven will allow. (Less than 200 F is good; you can prop the door open to keep the temperature lower if you need to.) I dried these slices overnight.
Once the fruit is all dried, chop or crumble it into small bits. Add the dried pineapple, dried citrus, dried apple and herbs to a large bowl, and use a pair of clean hands to mix them well. Store in a cool, dark place in an airtight container.
To make a cup of tea, boil about 8 ounces of water. Allow the water to cool for about 10 seconds, then add a heaping tablespoon of the fruit and herbs. Let the mixture steep for 3 to 4 minutes, then strain out the solids and enjoy the citrus-y, herbal warmth.
— Meryl Carver-Allmond lives in Lawrence and writes about chickens, babies, knitting, gardening, food, photography, and whatever else tickles her fancy on any given day at mybitofearth.net.