Wednesday, November 12, 2014
Leather is one of our favorite pieces to pull out this time of year, and a leather jacket is a fall must-have.

The one I'm wearing in the accompanying photo is more of a casual style thanks to its fleece hood. Find a leather jacket that suits you, and you're sure to be wearing it all the time.
The best part about the leather jacket I'm wearing is that the hood is actually removable, making it suitable to wear casually with a hood or without it for a dressier look.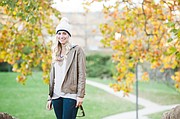 When you are looking for a leather jacket, you don't want it too big, but you also don't want it skin tight. Keep in mind that it's going to get cold, so you're most likely going to be layering underneath or pairing it with a chunky sweater to stay warm.
I paired my jacket with a blousy top and a statement necklace. Skinny jeans are always a simple and easy piece to add to your looks. I opted for flats, but you could also throw on a pair of ankle boots or knee-high boots.
Keeping with the fall theme, I added a cute beanie for a warm and cozy accessory.
If you're wanting to dress up your leather jacket, pair it with a fall dress underneath or top and skirt combination. Something flowy or even a dress with lace would be cute with this particular jacket. Mixing different fabrics is always a good idea.
Throw on some boots or heels (lose the hood on the jacket) and you're good to go!

— Emily and Elizabeth Kennedy are twin sisters and fashion bloggers who share a blog called Fashion Column Twins. Elizabeth wrote this column. They can be reached at fashioncolumnblog@gmail.com.