Wednesday, November 12, 2014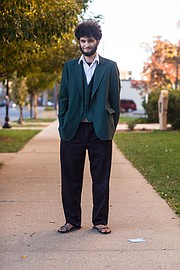 Name: Timothy Harper Dingus
Age: 23
Hometown: I gladly live in Lawrence
Relationship status: I'm happily seeing somebody.
Occupation: Professional entertainer — a comic
Dream job: Retired
What were you doing when scouted? I'm heading to grab some food with my family.
Describe your style: In this instance, it's what fits today. It's usually what I have lying around — slightly less than formal but more on the casual side of things.
Fashion trends you love: I like that a lot of guys are starting to wear suits more often.
Fashion trends you hate: The belt was invented for a reason! I suggest that a lot of people get to using it. I don't want to see your butt hanging out all the time — even if you're wearing underwear or shorts underneath.
Fashion influences: Old movies, other comic entertainers and such. Anything I wear, I have to be able to perform in it since I'm a juggler.
What would you like to see more or less of in Lawrence? More appreciation for local music. Less of? It's getting to the point where I think we have about three or four too many coffee shops in town. It's not a bad thing but it makes it hard to choose which one to go to from time to time.
Tattoos or piercings: I have one and I don't think this one counts. It's a wicked scar!
Whom do people say you look like? I used to get Kramer a lot.
What type of music do you like? Jazz, classical, electro swing, funk. Blues and a bunch of other stuff.
Tell us a secret: Fitting through a tennis racket is a lot easier than you think it is.