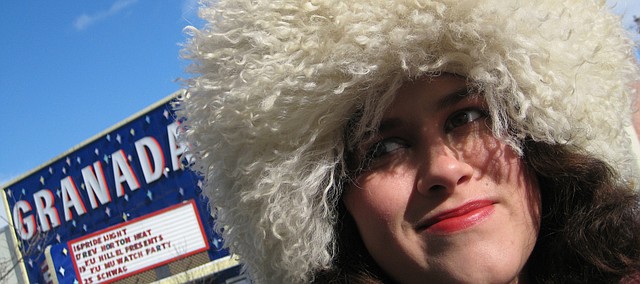 Wednesday, November 12, 2014
Today in Lawrence
is an early-morning digest of essential and not-so-essential info to start your day in Lawrence and Douglas County.
Click here
for past installments.
Chilled out
The chill is staying with us today with a high of 33 degrees under partly cloudy skies. The overnight low will be 19 degrees. The cold and varying sun and clouds will stick around through the end of the week, with snow showers possible on Saturday. Now is the time to buy ice melt and a shovel, before they're all gone!
Ebola discussion
The Kansas African Studies Center will sponsor a panel discussion on the Ebola outbreak featuring the perspectives of leading social scientists from Kansas University. The panel will include faculty from the departments of sociology, psychology and anthropology. The Ebola Outbreak in Wider Perspective: Social Scientists Discuss Health, the State and Society in Africa is from 3:30 to 5 p.m. in the Malott Room at the Kansas Union, 1301 Jayhawk Blvd.
Development discussion
The second public forum on Horizon 2020 and community development will be from 6 to 8 p.m. at the Lawrence High School cafeteria, 1901 Louisiana St. The topics at this forum include creation of employment opportunities; retail development issues; parks, recreation and open space; and arts and cultural amenities. The forum is designed to allow for public comment to share thoughts, ideas and concerns.
Yesterday's most-read
More Nov. 12 events
1 Million Cups presentation, 9-10 a.m., Cider Gallery, 810 Pennsylvania St.
Big Brothers Big Sisters of Douglas County volunteer information, noon, 2518 Ridge Court.
ECM University-Community Forum: The Great War and its Enduring Impact, noon-1 p.m., ECM Building, 1204 Oread Ave.
Are you smarter than a scam artist? Detecting Medicare fraud, 2 p.m., Meadowlark Estates, 4430 Bauer Farm Drive.
Lecture: The Sun is Not So Central, 4-5 p.m., Spencer Museum of Art, 1301 Mississippi St.
Fall 2014 Study Groups: Behind the Byline: Political Journalists on the Midterm Election, 4-5:30 p.m., Dole Institute, 2350 Petefish Drive.
Steak/Salmon Night, 5-7:30 p.m., Eagles Lodge, 1803 W. Sixth St.
Douglas County Commission meeting, check website at douglas-county.com for meeting time, Douglas County Courthouse, 1100 Massachusetts St.
Yoga @ the Library, 5:30-6:30 p.m., Lawrence Public Library, 707 Vermont St.
Natalie C. Parker: Book Talk & Signing, 5:30-7 p.m., Jayhawk Ink lounge, Kansas Union, 1301 Jayhawk Blvd.
Faith Forum: The Use of Scriptures and Suras to Justify Violence, 6:30 p.m., Ecumenical Campus Ministries, 1204 Oread Ave.
American Legion Bingo, doors open 4:30 p.m., first games 6:45 p.m., snack bar 5-8 p.m., American Legion Post #14, 3408 W. Sixth St.
Lawrence Pedestrian Coalition Meeting, 7 p.m., Carnegie Building, 200 W. Ninth St.
Ballroom/Latin Dance Class, 7-8:30 p.m., Big Six Room, Eldridge Hotel, 701 Massachusetts St. (No partner needed.)
Conroy's Trivia, 7:30 p.m., Conroy's Pub, 3115 W. Sixth St.
Pride Night, 9 p.m., Wilde's Chateau, 2412 Iowa St.