Friday, November 14, 2014
Looking to dabble in a little food espionage? The Blissful Swiss at Eats is essentially a Reuben sandwich masquerading as a hot dog, and a tasty one at that. It's missing the rye bread (who eats a hot dog on rye?) and of course, the corned beef, but still calls to mind the classic sandwich.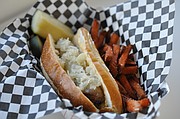 A sausage of your choice is wrapped in a soft-on-the-inside, crunchy-on-the-outside pretzel bun (they're made exclusively for Eats by Lawrence's M&M; Bakery) and topped with melted Swiss cheese, sauerkraut and a dollop of Thousand Island dressing. We tried the Ad Astra beer brat (flavored with Free State Brewing Co.'s famous ale), but customers can also opt for the jalapeño cheese brat, a veggie brat or the "local big hot dog." A house-made pickle comes on the side.
Where to get it: Eats, 3300 W. Sixth St.
What you'll pay: $6
Try it with: An order of sweet potato fries, $2. Customers like to dunk them in maple syrup and Eats' house-made honey mustard, though ketchup and mustard do the trick, too.
Also on the menu: Salads, sandwiches, burgers and crème brûlée from the Torched Goodness food truck.
— Off The Beaten Plate highlights some of the more exotic, oddly named or inventively concocted dishes from local menus. Know of an offbeat item we should check out? Email reporter Joanna Hlavacek at jhlavacek@ljworld.com. Follow her at Twitter.com/hlavacekjoanna.