Sunday, November 16, 2014
Over the next week at Kansas University's Spencer Museum of Art, a team of workers will transform a blank gallery wall into a large-scale, vibrantly hued work of art by Minimalism and Conceptualism pioneer Sol LeWitt.

When it's finished, the 80-by-11-foot piece, entitled "Wall Drawing #519" will become the newest addition to the Spencer's permanent collection.
Earlier this fall, the museum received the LeWitt donation from international corporation Pitney Bowes Inc. The piece is actually a set of instructions for installation, which Spencer staffers are executing in collaboration with the Sol LeWitt Foundation.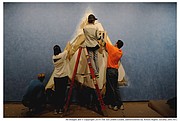 "I think one of the most exciting things about LeWitt's work is, he's always been very supportive of other artists," says Saralyn Reece Hardy, the museum's director. "To have his work executed and drawn by other people is such a wonderful act of sharing — sharing the finished work and the ways in which a finished work comes to be, watching it emerge and then to have this concept of working from instructions."
LeWitt, who died at age 78 in 2007, was a prolific creator who worked in a variety of mediums, including drawing, printmaking, painting, photography and sculpture. He made a name for himself in the 1960s with an unorthodox approach that emphasized ideas and concepts over form and emotion.

"When an artist uses a conceptual form of art, it means that all of the planning and decisions are made beforehand and the execution is a perfunctory affair. The idea becomes a machine that makes the art," LeWitt wrote in a 1967 essay.
Much like his other wall drawings, the Spencer Museum's "#519" incorporates seemingly simple line patterns and geometric designs implemented in precise steps.
Before installation began, staffers worked to remove any imperfections from the space, including divots and nail holes. A light skim coating was applied to create a level surface, followed by five layers of paint to give the wall texture.
Instructions for the piece include a red square on a yellow background, a blue circle on a red background and a yellow triangle on a blue background.
Hardy has taken daily trips down to Gallery 316 since work commenced on the project Nov. 10. Even after just a few days, the wall has developed into a "rich surface," she reports.
And, because LeWitt's work focuses more on the concept of the design than the physical product, "Wall Drawing #519" can be installed in different locations while retaining a similar effect.
The donation has "opened up so many possibilities" for the Spencer Museum. "It's expanding the work of the museum from being only object-based to being experience-based," Hardy says of the new ways in which patrons will be able to view and enjoy the collection.
"In a way, the work summons these wonderful associations with Sol Lewitt's ideas every time a work is reinstalled," says Hardy, a longtime admirer of the late LeWitt. "The artist lives on through his art."
Installation will take place through Nov. 22, and is open to the public.