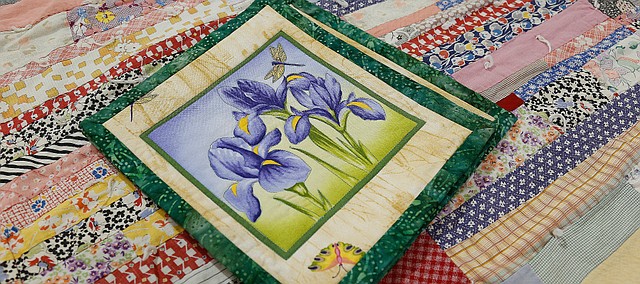 Tuesday, November 18, 2014
Today in Lawrence
is an early-morning digest of essential and not-so-essential info to start your day in Lawrence and Douglas County.
Click here
for past installments.
Little warmer
Today will be mainly sunny with a high of 35 degrees. No precipitation is forecast, and the winds will be west-southwest at 10 to 20 mph. The evening and overnight temps will go down to only 26, practically balmy compared to recent low temperatures in the single digits.
Get your quilt on
Kaw Valley Quilters Guild monthly meeting and Country Store will be from 9:30 to 11:30 a.m. at Plymouth Congregational Church, 925 Vermont St. The country store offers everything from quilts and fabrics to buttons and notions. Take part in the monthly meeting and then shop for supplies!
Safe distance from violence
Dr. Ludy Green has been working on domestic violence issues and solutions by getting domestic and world leaders to acknowledge her vision. Her efforts were instrumental in getting new language introduced to the updated Violence Against Women Act in 2013. Green will discuss her recent book, which outlines how a woman can regain her independence, her well-being and her dignity by distancing herself from her former abuser through employment. Green's "Ending Domestic Violence Captivity: A Guide to Economic Freedom" starts at 3 p.m. at the Dole Institute, 2350 Petefish Drive.
Strings of euphoria
The Tuesday Concert Series is back with the Euphoria String Band! Come give a listen to old-time and new-folk music combined with original songs, soaring harmonies and a little corny humor. The concert starts at 7:30 p.m. at the Lawrence Arts Center, 940 New Hampshire St. One-song opening act by host Larry Carter.
Yesterday's most-read
More Nov. 18 events
Red Dog's Dog Days workout, 6 a.m., Recreation Center, South Park, 1141 Massachusetts St.
Lawrence Parkinsons Support Group, 2 p.m., First Presbyterian Church, 2415 Clinton Parkway.
Big Brothers Big Sisters of Douglas County volunteer information, 5:15 p.m., 2518 Ridge Court.
Tai Chi Yang Style Short form, 5:30 p.m. beginner, 6 p.m. advanced, Ecumenical Campus Ministries, 1204 Oread Ave.
Red Dog's Dog Days workout, 6 p.m., west side of South Park, 12th and Massachusetts streets.
Lonnie Ray's open jam session, 6-10 p.m., Slow Ride Roadhouse, 1350 N. Third St., no cover.
Lawrence City Commission meeting, 6:35 p.m., City Hall, 6 E. Sixth St.
Sexuality Education Committee: Black Masculinity and Femininity in a Ferguson Society, 7 p.m., Ecumenical Campus Ministries, 1204 Oread Ave.
Free English as a Second Language class, 7-8 p.m., Plymouth Congregational Church, 925 Vermont St.
Affordable community Spanish class, 7-8 p.m., Plymouth Congregational Church, 925 Vermont St.
Baker University Symphonic Winds: "Journeys in Song," 7:30 p.m., Rice Auditorium, 404 Eighth St., Baldwin City.
Gamer Night, 8 p.m., Burger Stand at the Casbah, 803 Massachusetts St., free.
Slideshow photography group, 8 p.m., Gaslight Gardens, 317 N. Second St.