Wednesday, November 19, 2014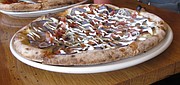 Just when we thought pizza couldn't get any more carb-heavy, along comes The Spud. Limestone Pizza offers up a tasty pie covered in thin slices of purple (or blue, depending on the local distributors) potatoes, onions, bacon and rosemary. A dainty drizzle of crème fraîche gives the marinara-less pizza some moisture.
It's a colorful feast for the eyes — and the belly, of course.
Where to get it: Limestone Pizza + Kitchen + Bar, 814 Massachusetts St.
What you'll pay: $10
Try it with: A bit of Limestone's house sauce, a chili-garlic blend, if you'd like some heat. Or a nice, green salad.
Also on the menu: A few other "neoprairie pizzas," made with locally sourced ingredients like Kansas flour and tomatoes. Not in the mood for pizza? Limestone also serves a variety of appetizers, sandwiches, salads and pasta dishes.
— Off The Beaten Plate highlights some of the more exotic, oddly named or inventively concocted dishes from local menus. Know of an offbeat item we should check out? Email food and features reporter Joanna Hlavacek at jhlavacek@ljworld.com. Follow her at Twitter.com/hlavacekjoanna.