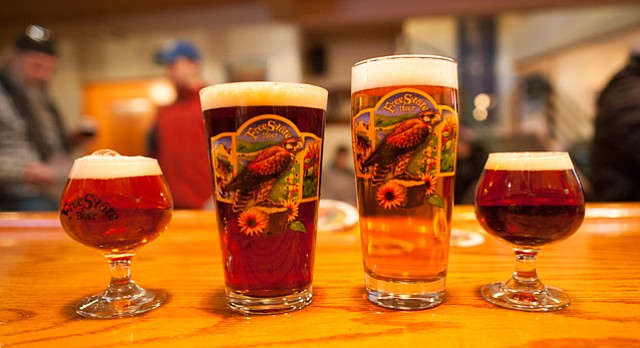 Originally published November 19, 2014 at 10:02 p.m., updated November 20, 2014 at 8:41 a.m.
Earlier this year, the Journal-World assembled a list of the top 10 wonders of the Lawrence food world. The resulting article — an eating-out bucket list compiled with help from readers, chefs and restaurateurs, foodies and newspaper staffers — created a lot of interest over which dishes made the list and which deserved (or didn't deserve) the recognition.
With a response like that, why not do it again with beverages? Once again, we polled readers, asked bartenders and baristas and had newsroom debates about what should be included on a list of Lawrence's most iconic drinks. We eventually paired the selections down to nine, keeping in mind these questions:
• Has it been around awhile? Does it have staying power?
• Is it unique to Lawrence? Drinks from chains — unless they started here — will not be considered.
• Is it popular? Is it well-known within the community?
• Is it good? Obviously, taste is subjective, but you get the idea. In our list, "good" doesn't necessarily mean "fancy."
Thirsty for the results? Here they are, in no particular order:
Ad Astra Ale at Free State Brewing Co.
636 Massachusetts St.
Ad Astra Ale may take its name from the Kansas state motto ("Ad Astra per Astra" is Latin for "to the stars through difficulties"), but knocking back a pint of this full-bodied ale is no hardship.

We had a tough time selecting just one beer from Free State Brewing Co., as its beers taken as a whole might be the most iconic drink in Lawrence. We went with the Ad Astra because it was the first ale brewed in Kansas since the pioneer days as well as the first of Free State Brewing Co.'s flagship brews.
It's since gained a cult following, and can even be found in the restaurant's Cheddar Ale Soup, another icon of the Lawrence dining scene that made our food wonders list.
---
Sangria at Henry's Upstairs
11 E. Eighth St.
Henry's Upstairs may not have invented the sangria, but it's become a popular choice on hot summer nights and year-round for many Lawrencians.
Available in both red and white wine varieties, Henry's version adds liquor (usually brandy or gin) and chopped fruit. Bartenders assemble the batches, displayed on the bar top in a pair of large jars, every Wednesday. On that day, customers can snag the drink for $3 instead of the usual $4.
---
The Grasshopper at La Prima Tazza
638 Massachusetts St.
One of two non-alcoholic drinks to make the list, La Prima Tazza's minty coffee creation has remained a best-seller since the place opened in 1990.
Customers can order the drink hot or iced, though its cold version accounts for an overwhelming majority of sales.
"It's basically like a delicious Andes mint covered in coffee, is how I pitch it to customers," says barista Spencer Brown about the Grasshopper, which is made with cacao syrup and crème de menthe and topped with powdery chocolate. "It's a good starter drink for people who are trying to understand coffee."
After all, he says, most folks like mint and "everybody loves chocolate."

---
Brazilian Lemonade at La Parrilla
724 Massachusetts St.
Longtime fans of this frothy concoction might be surprised to learn that despite its name, La Parrilla's Brazilian Lemonade doesn't contain a single lemon — just plenty of limes. In Latin America, the word "límon" can refer to both fruits, says owner Subarna Bhattachan.
Customers don't seem to mind. The drink — made with cream of coconut, fresh lime juice, sugar and fresh ginger — outsells all others at La Parrilla, especially in hotter months.
"We have people who order it by the buckets for weddings and special occasions," Bhattachan says.
Bhattachan and his staff sometimes churn out up to three 5-gallon batches in a week, just to keep up with the demand.
---
Schooners at Louise's Downtown
1009 Massachusetts St.
Not many local drinks can boast a generations-spanning fan base quite like schooners at Louise's Bar downtown, where bartenders have been serving up the budget-friendly libation since at least the 1970s. The people's choice, the schooners at Louise's Downtown (and Louise's West) received overwhelming support from readers when we asked them for nominations for this list.
There's nothing fancy about it — just 32 ounces of beer (customers can choose from 15 brews on tap) served in a stately glass goblet fit for a king. Even the most cash-strapped college student will feel like royalty sipping on their very own schooner, whether it be filled with Bud Light or Boulevard Wheat.
---
Horsefeather at The Bourgeois Pig
6 E. Ninth St.
There's a fair amount of mystery surrounding this local favorite, but one thing's for sure: Lawrencians are crazy about this gingery cocktail, particularly the version served up at The Bourgeois Pig.
"You can get it almost any bar in this town," says Pig owner Ryan Pope of the Horsefeather. At the Pig, it's made with rye whiskey, ginger beer and bitters, served in a highball glass and garnished with a gourmet maraschino cherry.
Rumor has it the Horsefeather was invented in Lawrence, though extensive research could neither refute nor deny these claims with any certainty. It's fairly solid, however, to say the drink is probably based something called the Horse's Neck, a classic cocktail dating back to the 1890s.
Pope says the Pig's use of ginger beer (as opposed to ginger ale or syrup) and the Luxardo cherries make its Horsefeather special. A 12-pound can of the fruit (candied for seven years in Italy) costs $150, and lasts about a month at the bar, which has a Horsefeather special on Mondays.
---
Shark Attack at The Sandbar
17 E. Eighth St.
You don't have to live near the ocean to experience a shark attack. Just ask longtime Sandbar owner Peach Madl — her bartenders sell well over a hundred of the whimsical drinks every weekend, and that's a conservative estimate.
"People call us for the recipe," she says. "I tell them, 'It's not the recipe. It's where you drink it.'"
The Shark Attack, which Madl calls a riff on a Vodka Collins, has been a best-seller at the Sandbar since landing there in 2003.
Its name alludes to the toy shark perched along the glass's rim that, when turned upside down, releases a stream of "blood" (actually grenadine) into the blue (ocean) liquid. Some customers toss the sharks into a net hanging from the bar's ceiling, while many others take them home as a keepsake, says bartender Bryan Love.
"You'll see them in gutters, in peoples' cars, in babies' cribs, as bath toys," he says. "They're all over town, and people know exactly where they came from."
---
Basil Rickey at 715
715 Massachusetts St.
Because of popular demand, this "green garden" of a cocktail recently made the jump from the downtown bistro's seasonal drink menu to its roster of "715 classics."
The Basil Rickey, built around 715's house cucumber-and-fennel-infused gin, became a top-seller not long after its debut in spring 2010.
Served in its signature mason jar, the drink is a Lawrence summertime staple that customers can now have year-round, says bar manager Katrina Weiss.
"It sells really well in the summer because it's a light, refreshing drink," Weiss says of the Basil Rickey, which also features a house-made lavender syrup, lime juice, orange bitters, soda and, of course, basil leaves. "It's got a lot of flavor profiles that people know, but it's got a lot of unexpected flavors, too."
---
Jayhawker Juice at the Jayhawker
701 Massachusetts St.
The Jayhawker, located inside the historic Eldridge Hotel, is famous for its extensive martini menu. With 36 different varieties on hand, though, how do you choose just one?
"People ask me all the time, 'What's the best martini?' and I tell them about Jayhawker Juice," says bartender Mark Rogers about the drink, which consists of house-made pineapple-infused vodka.
The Lawrence original accounts for at least a third of sales on half-price Martini Night, which is every Thursday at the Jayhawker.
---
Honorable Mentions
These drinks don't quite meet our criteria in one way or another but have potential to be future drink wonders or are notable in their own right.
• Purple Drank at Frank's North Star Tavern
• Alcoholic milkshakes at the Burger Stand
• Volcano at Ramen Bowls
• Lt. Dan at Java Break
• Cans of PBR at the Replay Lounge (the bar sells between 40 to 60 cases a week during peak season)
• Ginger Smash at Eighth Street Taproom
• Bloomin' Bloody Mary at Dempsey's Burger Pub
---
Reader poll
Ad Astra Ale at Free State Brewing Co.

35%

160 votes

Sangria at Henry's Upstairs

6%

30 votes

The Grasshopper at La Prima Tazza

3%

15 votes

Brazilian Lemonade at La Parilla

2%

13 votes

Schooners at Louise's

14%

64 votes

Horsefeather at The Bourgeois Pig

10%

48 votes

Shark Attack at The Sandbar

13%

60 votes

Basil Rickey at 715

4%

19 votes

Jayhawker Juice at the Jayhawker

3%

18 votes

Other (tell us in the comments)

6%

28 votes
455 total votes.
---
Correction: A previous version of this story incorrectly identified the Shark Attack's age. The Sandbar started serving the drink in 2003.