Wednesday, November 19, 2014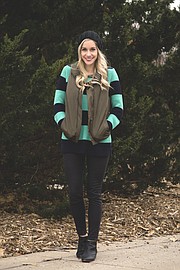 With below-freezing temperatures upon us, now's the perfect time to shop for warm, cozy sweaters
I love a big, chunky sweater that I can pair with leggings or jeans this time of year, though I have to admit it's easy to get stuck in a rut of wearing jeans, sweaters and boots. But there are simple ways to liven up your look in seconds.
I love vests and I love layering, so I simply put the two together for my look in the accompanying photo. So next time you're asking yourself what to wear with sweaters, check out your closet for a simple tweed or puffer vest to layer over your sweater. (Since I was wearing a striped sweater, I chose a solid-colored vest.)
You could also opt for layering with a fur vest or leather jacket. If you're unsure about what vest to wear over your sweaters, go with a solid color and wear it as a neutral rather than mixing patterns. If you're feeling a little more adventurous, go ahead and mix the prints.

For accessories, I went with a statement necklace, basic black beanie and booties. If you don't have a bold statement necklace, pair your sweater and vest with a chunky scarf. I love infinity scarves. They add some extra warmth to your look and are super comfortable.
You could pair with a printed scarf or a solid color. If you have a lot going on with your vest and sweater, I would recommend something neutral to balance everything out.

To finish off the look, add your favorite beanie or hat. Slouchy beanies are my favorite because they have a cool and casual feel and will go with just about anything.
However you try to stay warm this season, always know that your look doesn't have to be boring and repetitive. Mix it up with these few easy tricks!
— Emily and Elizabeth Kennedy are twin sisters and fashion bloggers who share a blog called Fashion Column Twins. Elizabeth wrote this column. They can be reached at fashioncolumnblog@gmail.com.