Wednesday, November 19, 2014
Fall decorations have a little more sparkle thanks to Glass Gem corn, a variety that has been making waves the last two years.
Ears of Glass Gem corn feature row upon row of brightly colored, jewel-like kernels that are uniquely translucent. Use them as a centerpiece in a fall display or set them up next to winter squash and gourds. The best part is that when you get tired of admiring the corn (if ever), the kernels can be popped or ground into cornmeal.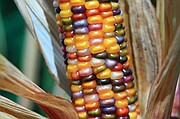 Glass Gem corn has been met with high demand, but availability is also expanding rapidly. For next year's crop, seeds are available through the nonprofit organization Native Seeds/SEARCH (NS/S). According to the NS/S website, the organization is "dedicated to conserving and nurturing the traditional agricultural heritage of the Greater Southwest." They also "work to build sustainable, productive and resilient food systems in the region and to support cultures through our innovative conservation and education programs."
Once you have a few ears of Glass Gem, select your favorite colors and save those kernels to plant the following year. Because corn cross-pollinates, you will likely end up with ears in an array of colors despite which shades are selected. Kernels come in all shades of red, blue, yellow, orange, green and purple. Perhaps the most interesting kernels are gray to white, truly giving the appearance of being made from glass.
Glass Gem has only been available the last few seasons because it took decades of seed selection and crossing to get the colors mixed with the translucency.
The corn began with Carl Barnes, an Oklahoma farmer who sought to recover some of the ancient varieties of his Cherokee heritage. Barnes passed seeds to another breeder named Greg Schoen, who continued the work of crossing the colored popcorn and flour corn varieties.
Schoen passed selections to the director of Seeds Trust, Bill McDorman, in 2009. After McDorman transferred to NS/S, pictures of Glass Gem corn finally went viral on the Internet and brought the variety to popularity.
Plant Glass Gem in late spring after all danger of frost has passed. According to the producer, the corn is typically ready to harvest about 110-120 days after planting, so plan accordingly if you want it at a certain time. Ears range in size from 3 to 8 inches long and should be left on the stalk until husks are dry and brown, indicating maturity.
— Jennifer Smith is a former horticulture extension agent for K-State Research and Extension and horticulturist for Lawrence Parks and Recreation. She is the host of "The Garden Show" and has been a gardener since childhood. Send your gardening questions and feedback to Lawrence Living@ljworld.com.