Wednesday, November 19, 2014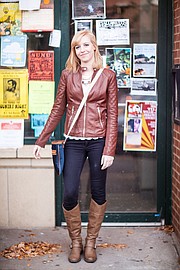 Name: KaLyn Berry
Age: 23
Hometown: St. James, Mo.
Time in Lawrence: Just visiting my friend in Lawrence
Occupation: Manager
Dream job: Pastry chef
What were you doing when scouted? Getting some ice cream with my friend Kierra
Describe your style: Different and unique. I don't go by any rules or fashion trends. I wear what I like.
Fashion trends you love: Biker gear
Fashion trends you hate: Gaudy furry stuff
Fashion influences: My sisters
What would you like to see more or less of in Lawrence? Live music is always fun. Less of? Nothing. We're positive people!
Tattoos or piercings: I have four tattoos that are all religious related.

Whom do people say you look like? I was told that I look like the Wendy's girl. The girl with the red hair.
What type of music do you like? I appreciate all styles of music.
Tell us a secret: I'm very good friends with my exes and will remain friends with them even if I'm in a new relationship.