Wednesday, November 19, 2014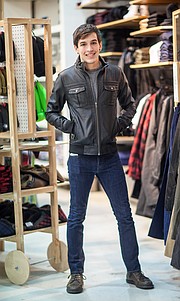 Name: Roberto Carlos Sada
Age: 19
Hometown: San Antonio, Texas
Time in Lawrence: Since January
Relationship status: I'm single.
Occupation: I work at the Gap and I'm studying economics and political science at KU.
Dream job: A lobbyist for a company that I could actually believe in or a civil rights advocate
What were you doing when scouted? Trying to run some errands around town.
Describe your style: I'd say it's a kind of a contemporary, clean-cut [look]. I don't mind being a little bit flashy at times too — I like my colorful shirts.
Fashion trends you love: I absolutely love all types of raw denim. I am a raw-denim addict, from cuffed jeans to, even, [regular] cuffed khakis. As guys' styles goes toward trimmer and more East Coast, shorter-length pants — I like to see what everybody is doing with it.
Fashion trends you hate: Cargo shorts are the worst things ever. I also think that girls need to find something else besides denim cut-offs to wear during the summer every single day.
Fashion influences: I absolutely love GQ magazine, and even though fashion is not one of my favorite subjects, I'm on Tumblr checking out European styles, other newer styles as well as being influenced by my co-workers.
What would you like to see more or less of in Lawrence? I'd like to see more people on campus embodying the [spirit] of Lawrence: let's smile at each other and say "hi" when we're strangers walking next to each other on the side walk. It's not scary!
Tattoos or piercings: My ears are gauged.
Whom do people say you look like? David Cook
What type of music do you like? Everything except for death metal
Tell us a secret: I am, and will always be, a boxers guy. It's never going to change. We need to get back to basics and get rid of these tighty whities.