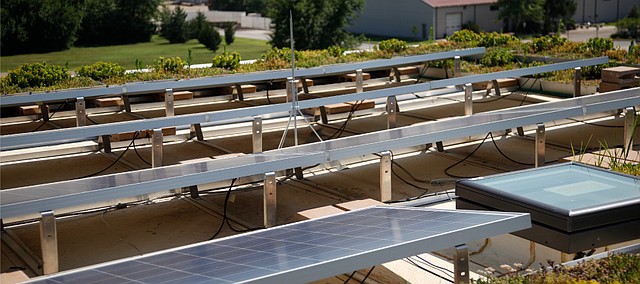 Wednesday, November 19, 2014
Today in Lawrence
is an early-morning digest of essential and not-so-essential info to start your day in Lawrence and Douglas County.
Click here
for past installments.
Cold, but not AS cold
Today's high is expected to be 39 degrees under mostly sunny skies, with an overnight low of 23 degrees. There's something not quite right about 23 being "warmer," but that's quite a bit warmer than the single-digit record cold temperatures recorded recently. And it's only going to get warmer — topping out at 55 degrees on Saturday (with some rain).
Solar energy forum
The environment is a hot topic. If you've wondered about solar as a source of sustainable energy, bring your questions and answers to the ECM University-Community Forum: Economics of Solar Panels from noon to 1 p.m. at the ECM Building, 1204 Oread Ave. Presentations are free and open to the University and Lawrence communities, and an optional lunch is served at 11:30 a.m. for $6.50 ($3.50 for students).
So you think you can't dance
If you want to be dancing by New Year's Eve, now is the time to start learning. Head to the Eldridge for Ballroom/Latin Dance Class, 7 to 8:30 p.m. in the Big Six Room of the Eldridge Hotel, 701 Massachusetts St. No partner is required; just bring your dancing shoes and be ready to move!
Yesterday's most-read
More Nov. 19 events
1 Million Cups presentation, 9-10 a.m., Cider Gallery, 810 Pennsylvania St.
Big Brothers Big Sisters of Douglas County volunteer information, noon, 2518 Ridge Court.
The National Active and Retired Federal Employees, noon, Conroy's Pub, 3115 W Sixth St.
Douglas County Commission meeting, check website at douglas-county.com for meeting time, Douglas County Courthouse, 1100 Massachusetts St.
North Lawrence Community Thanksgiving dinner, 5:30-7 p.m., Centenary United Methodist Church, 245 N. Fourth St.
Health Mythbusters: Children's Sensory Needs, 6-7 p.m., Lawrence Public Library, 707 Vermont St.
Faith Forum: The Use of Abrahamic Religions to Create Peace, 6:30 p.m., Ecumenical Campus Ministries, 1204 Oread Ave.
The Beerbellies, 6:30-9:30 p.m., Johnny's Tavern, 401 N. Second St.
American Legion Bingo, doors open 4:30 p.m., first games 6:45 p.m., snack bar 5-8 p.m., American Legion Post #14, 3408 W. Sixth St.
NAMI-Douglas County Support Group meeting, 7-8:30 p.m. Lawrence Public Library, 707 Vermont St.
KU School of Music Undergraduate Honor Recital, 7:30 p.m., Room 130, Murphy Hall, 1530 Naismith Drive.
"No Labels: Stop Fighting, Start Fixing" with Mark McKinnon, 7:30 p.m., Dole Institute, 2350 Petefish Drive.
Conroy's Trivia, 7:30 p.m., Conroy's Pub, 3115 W. Sixth St.
Film: "Pulp: A Film About Life, Death & Supermarkets," 9 p.m., Liberty Hall, 644 Massachusetts St.
Pride Night, 9 p.m., Wilde's Chateau, 2412 Iowa St.