Saturday, November 22, 2014
In the prologue of "On His Own Terms: A Life of Nelson Rockefeller," the subject's longtime personal assistant Joe Canzeri compares him to a 16-slice pizza pie, with no one but his second wife, Happy, having access to more than three of four slices.
Most people familiar with Rockefeller — a four-term Republican governor of New York, one-time U.S. vice president and three-time presidential candidate known for his seemingly larger-than-life persona — might not understand the metaphor.
But to celebrated biographer Richard Norton Smith, it makes a lot of sense.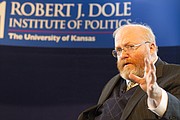 If you go
Former Dole Institute director and presidential historian Richard Norton Smith will discuss and sign copies his newest book, "On His Own Terms: A Life of Nelson Rockefeller," at 4 p.m. today at the institute, 2350 Petefish Drive. The event is free and open to the public.
"I now know exactly what he meant," says Smith, a former director of Kansas University's Dole Institute of Politics who is now a frequent contributor to C-Span and PBS NewsHour.
"Rockefeller was a very private man — he covered his tracks and he compartmentalized his life," Smith says. "That certainly makes him more elusive. And if you're serious about getting to the heart of things, it's going to take some time."
This afternoon, Smith will return to the Dole Institute to discuss his newest biography, "On His Own Terms," released earlier this year. The event, slated for 4 p.m., will also include a book sale and signing.
It "feels like a bit of a homecoming" for Smith, who served as the Dole Institute's first director, from 2001 to 2003. He's revisited the institute at least a half-dozen times in the past decade, most recently in February for a lecture series on America's first ladies.
Each return is an opportunity to reflect on the Dole Institute's progress over the years, says Smith, who has also headed the Lincoln, Hoover, Eisenhower, Ford and Reagan presidential libraries.
When the center was still in its beginning stages, Smith redesigned the original concept and plans to encourage community participation and discourse.
"I always used to talk about a public policy center that actually involves the public, which is a bit of an oxymoron to some people," Smith says with a laugh. "It's a place to bring people together when our politics seem to drive them apart."
Today's event, then, seems like a fitting time to look back on Smith's latest subject: Nelson Rockefeller, "a man without a party."
"On His Own Terms" offers an unbiased view of Rockefeller, whose status as a political "hybrid" (he described himself as possessing a "Republican head and a Democratic heart") hindered his chances of securing the GOP's nomination for president in 1960, 1964 and 1968.
The 880-page book that was 14 years in the making is perhaps the most complete Rockefeller biography to date, says Smith, who admits the project made him question what he thought he knew about the charismatic "Rocky."
"Most people think of him as being single-minded with a lifelong pursuit of the presidency, and I came to the conclusion that he harbored doubts about his own ability to do the job," Smith says. "He harbored a fear of failure, particularly on the public stage. I think that suggests a vulnerability that very few people were allowed to see during his life."
Born into extreme wealth at the turn of the 20th century — his grandfather was oil tycoon John D. Rockefeller — Nelson was raised in a strict Baptist household that instilled in him a responsibility to help the less fortunate.
The businessman-turned-politician championed causes such as environmentalism, the arts, civil rights and expanded access to health care.
"If you don't have good education and good health, then I feel society has let you down," he famously said.
Smith spent 14 years researching and writing "On His Own Terms," which draws from thousands of previously undisclosed documents and more than 200 interviews.
"I actually tore up the first 70,000 words that I'd written when the archives opened 125 boxes marked 'family and friends,'" Smith says. "It was just pure gold."
The collection included 100 or more letters from Rockefeller's first wife, Mary, during their courtship, as well as unedited correspondence between Rockefeller and his parents over the years.
Also unearthed: 500-plus pages of oral history told by Rockefeller himself. His dyslexia, according to the biography's notes, caused Rockefeller "to look on the written word with suspicion" and "reinforced a reluctance to commit sensitive information to paper."
Rockefeller, who would reach age 50 before hearing the word "dyslexic" for the first time, simply believed he had a "deficient IQ" for most of his life, Smith says.
"Clearly there were emotional bruises left over from this condition that he didn't understand and that no one really explained to him," Smith says.
The book, while celebrating Rockefeller's many accomplishments — the Museum of Modern Art, the Rockefeller Center and the expansion of the State University of New York, to name a few — doesn't shy away from his failings, including the 1971 Attica Prison riot and his well-documented philandering.
Even Rockefeller's 1979 death generated scandal, when at age 70 he died "in the saddle," as his young female aide recounted. Smith says his health was so poor, though, that he may have died that night regardless.
Rockefeller never did reach his goal of becoming president — bad timing and the Republican party's growing conservatism made sure of that — but he did make it to the White House, serving one term as vice president under Gerald Ford.
His ability to win over bipartisan support is not something that "could be reproduced in today's climate," Smith says.
What makes Rockefeller relevant today, however, is his persistent belief in "the very American idea that every problem could be solved…by bringing people together who might disagree."
"He was very much a problem-solver, and I think right now we're going through a phase in our political history where that it is out of fashion in some ways," Smith says. "But it's part of the American character, and I have no doubt that we'll come back to it."