Tuesday, November 25, 2014
Hi, folks! Can you stand one more pumpkin recipe? This one's pretty good, if I do say so myself.
Not overly moist or crumbly as most pumpkin bread, this one is firm and slightly dense; studded with dried cranberries and white chocolate chips, it's the perfect in-car take-along snack that won't leave crumbs in the upholstery as you head over the river and through the woods.
Are you ready to play along at home?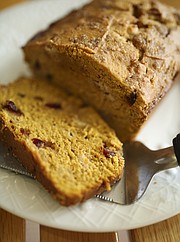 Pumpkin Cranberry Bread
1 stick unsalted butter, softened
1 cup granulated sugar
1 cup packed brown sugar
2 cups umpkin puree
3 eggs
1 tablespoon vanilla extract
1/3 cup vegetable oil
1/3 cup milk
3 1/2 cups flour
1 tablespoon baking powder
1 teaspoon salt
1 tablespoon pumpkin pie spice
3/4 cup dried cranberries
3/4 cup white chocolate chips
Heat your oven to 350 F and grease two 9-inch loaf pans. Toss one stick of softened unsalted butter into your stand mixer bowl with 1 cup of granulated sugar and 1 cup of packed brown sugar. Whirl them together until smooth.
Add 2 cups of pumpkin puree, 3 eggs, 1 tablespoon of vanilla extract, 1/3 cup of vegetable oil, and 1/3 cup of milk. Crank up the mixer and blend everything on medium speed for 1 minute.
In a separate bowl, stir together 3 1/2 cups of flour, 1 tablespoon of baking powder, 1 teaspoon of salt, and 1 tablespoon of pumpkin pie spice. Mix on low speed just until everything comes together. Don't worry about getting it perfectly smooth; you'll just annoy yourself and wind up with tough bread for your troubles.
With a rubber spatula or a spoon, fold in 3/4 cup of dried cranberries and 3/4 cup of white chocolate chips. "But wait," I hear you cry. "White chocolate isn't real chocolate! It's gummy and weird and it tastes funny!" Have no fear, my flour-dusted friends. White chocolate really does serve a purpose, and it can be super yummy. Throw it in.
Divvy the bread batter between the two greased loaf pans and smooth the tops with the rubber spatula (or spoon). Sprinkle the tops with a little bit of brown sugar. Slide the pans into the oven and let the whole mess bake for about 1 hour. When the timer goes off, stick a toothpick into the center of each loaf; if it comes out clean, they're done.
Let the loaves cool for 10 minutes or so in the pans, and then turn them out onto a rack to finish cooling. Standard culinary safety measures still apply; prevent lip burns by waiting at least half an hour to cut into your bread.
This bread is just as good the next day, when the flavors have had more time to blend. I have no idea about its status after 24 hours, because it didn't last that long. Even my husband, a notoriously picky eater, ate four slabs. With two loaves, you can enjoy one and wrap the other in foil as a contribution to your next holiday gathering. For an extra kick, spread some cream cheese on each slice. If you want to go right over the top, stir a little cinnamon and brown sugar into the cream cheese and wait for the "noms" to roll in.
Have a great Thanksgiving, everybody. Enjoy!