Wednesday, November 26, 2014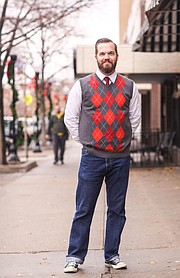 Name: Andrew Damgaard
Age: 33
Hometown: Bellevue, Neb.
Time in Lawrence: A few hours
Relationship status: Married
Occupation: Engineer
Dream job: A comic book artist
What were you doing when scouted? Just took Christmas pictures (with my wife and son) at Atomic Photography.
Describe your style: It's kind of retro and spiffy. I like argyle, rolled-up jeans, Chuck Taylors and stuff like that.
Fashion trends you love: I honestly don't think about it that much. But I do like the pompadour hair. I've been doing that forever especially since swing came out in '98. I've been growing a beard for the last few years and the handlebar mustache is new.
Fashion trends you hate: Nothing, really. People can do whatever they want.
Fashion influences: Mostly '50s rockabilly style
What would you like to see more or less of in Lawrence? I love this town! It's beautiful and great — especially the old houses. Other than that, I haven't spent enough time to have an opinion on what I'd like to see less of.
Tattoos or piercings: None
Whom do people say you look like? James Van Der Beek
What type of music do you like? Rockabilly style, bluegrass, old swing stuff and punk rock
Tell us a secret: I have six toes on my right foot.