Wednesday, November 26, 2014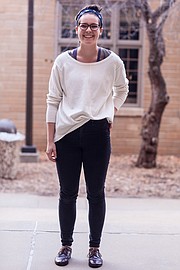 Name: Elaine Booth
Age: 18
Hometown: Huntsville, Ala.
Time in Lawrence: A few months
Relationship status: Single
Occupation: I'm a design student focusing on illustration.
Dream job: I really want to be an art director for films, so doing concept art and set designs for theater as well — kind of that aspect of story-telling — would be great.

Describe your style: I guess it's kind of artsy if you want to use such a cliché word.
Fashion trends you love: I really like old styles from the '60s, clean lines and [style icons] like Audrey Hepburn.
Fashion trends you hate: Oversized, baggy things
Fashion influences: From all over. I like checking out styles from way back when, all the way to [contemporary] stuff that's on the Internet.
What would you like to see more or less of in Lawrence? I'd like to find more of the artist community. Less of? I haven't been here long enough.

Tattoos or piercings: No, I'm terrified of needles.
Whom do people say you look like? My mom says I have Audrey Hepburn's eyebrows.
What type of music do you like? I like a mix of everything, from new alternative and folk, to classic rock and swing.
Tell us a secret: When people see me at first glance, they do not realize that I'm really athletic. So, I think people are kinda shocked that you can be artistic and athletic.