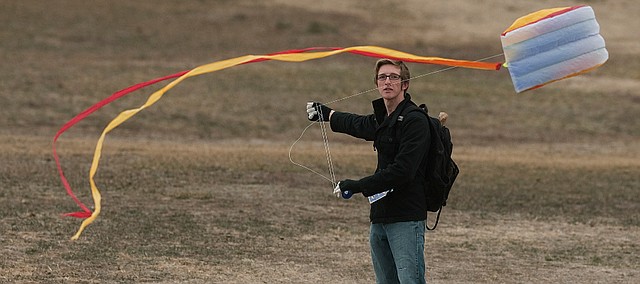 Wednesday, November 26, 2014
Today in Lawrence
is an early-morning digest of essential and not-so-essential info to start your day in Lawrence and Douglas County.
Click here
for past installments.
Harvest winds
Windy weather is back, with gusts today of up to 30 mph. The high temperature will be about 41 degrees with partly cloudy skies. The wind will die down tonight, and the low will go to 22 degrees. Thanksgiving day will look much the same, but more sun and less wind — perfect for a post-feast walk with family and friends!

Time to yourself
Enjoy yourself before the madness of the holiday with a movie at Liberty Hall. Grab some popcorn and settle in for "Birdman" starring Michael Keaton, in which an actor famous for portraying an iconic superhero struggles to mount a Broadway play. Showtimes are at 4:15 and 9:30 p.m. in the Little Theater and 1:30 and 6:45 p.m. in the Main Theater. Liberty Hall is at 644 Massachusetts St.
Bring on the jams
Bring your works in progress for a Round Table Singer Songwriter Open Jam at Gaslight Gardens. Jay Canter from Street Level Uprising hosts the Wednesday night jam from 6 to 9 p.m. — come hang out and play if you dare. Gaslight Gardens is at 317 N. Second St.
Yesterday's most-read
More Nov. 26 events
1 Million Cups presentation, 9-10 a.m., Cider Gallery, 810 Pennsylvania St.
Big Brothers Big Sisters of Douglas County volunteer information, noon, 2518 Ridge Court.
Douglas County Commission meeting, check website at douglas-county.com for meeting time, Douglas County Courthouse, 1100 Massachusetts St.
American Legion Bingo, doors open 4:30 p.m., first games 6:45 p.m., snack bar 5-8 p.m., American Legion Post #14, 3408 W. Sixth St.
Conroy's Trivia, 7:30 p.m., Conroy's Pub, 3115 W. Sixth St.
Pride Night, 9 p.m., Wilde's Chateau, 2412 Iowa St.