Wednesday, October 1, 2014
"I want to be a vegetarian," the Kid announced after dinner the other night. Suspecting this had more to do with his desire to emulate a friend at school than his moral or nutritional scruples — he's 3, after all — I probed further.
"OK," I said, "But you know that vegetarians can't eat ham and cheese croissants or Wheatfields' gravy or bacon, right? Those all come from pigs." He looked at me like I was being silly, "Well, I would still eat pigs." Duh, Mom.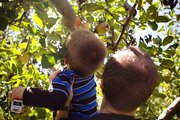 I didn't have the heart to break it to him that the two are mutually exclusive, and I was truthfully just glad to be having the conversation. While I love bacon, too, it's an important part of my food scruples that we pay attention to where the pig providing it comes from. Helping the Kid understand that his slice of ham did not just magically appear on his plate is a good first step.
Another good food educational opportunity? The Kaw Valley Farm Tour, which is happening this weekend.
From 10 a.m. to 6 p.m. Oct. 4-5, almost 30 local farms will be open for public tours. Tickets are $10 a carload and are available online, at several local businesses, and at any farm along the tour. Visit kawvalleyfarmtour.org for more information, including a list of all the participating farms.
According to Laurie Shuck, the tour coordinator, education is one of the primary goals of the tour, which shows in the farms featured. Not all of the farms are geared toward children — there are several wineries that would make a lovely adults-only farm tour, for example — but there are certainly enough to make a fun family day or weekend. While I encourage you to check out many more, here are just a few that you can't miss.
Ad Astra Alpacas
Speaking of life lessons, apparently Ad Astra had a surprise birth during last year's tour. While that performance will probably not be repeated, in addition to their herd of alpacas, Ad Astra will have spinning, carding and felting demonstrations. And if you love alpacas and bees, be sure to also check out Manna Meadows, which will have similar alpaca activities, plus information about their apiary.
Prairie City Minis and Raymond Crist Restoration
A new stop this year, Prairie City raises and trains horses of all sizes. Who doesn't love watching a mini-horse do tricks? On the restoration side, they fix everything from farm equipment to antique gas pumps, and will specifically be doing blacksmithing demonstrations for the tour.
Amy's Meats
Amy Saunders and her family have created a real, old-fashioned homestead. They produce much of what they eat themselves, and share the excess through local markets and their CSA. Her children — who often act as tour guides — are very much a part of the farm, and will proudly teach you about catching chickens and milking cows. Before you're done, you'll wish you'd grown up on this farm alongside them!
Vertacnik Orchard
Full disclosure, I'm crunching on one of Dave and Wendy Vertacnik's delicious apples as I write this. They'll quickly spoil you for every other kind. And because their orchard is small and simple, it makes a perfect in-and-out farm tour stop. Even the shortest kiddo can be lifted up to pick an apple or two, so you can fill a bucket in no time.
Iwig Family Dairy
Despite enjoying their milk for years, I haven't yet made it out to Iwig Dairy, a failing I hope to cure during this year's tour. While I'm interested in how my milk gets made — which will, of course be part of the tour — I'm also excited to have the opportunity to give the cows a scratch on the nose in thanks. Getting to sample some uber-fresh milk at the end will just be the cream on top of this tour stop.
Pendleton's Country Market
The grande dame of the farm tour, Pendleton's has a little bit of everything. From a garden barn to a butterfly house to a maze to tractor rides to pick-your-own of whatever happens to be growing — it's a wonderful place to let your kids explore, learn and burn off some energy before the car ride home.

Enjoy the tour!
— Meryl Carver-Allmond lives in Lawrence and writes about chickens, babies, knitting, gardening, food, photography, and whatever else tickles her fancy on any given day at mybitofearth.net.