Wednesday, October 1, 2014
There are so many great trends to wear this season, but one of our favorites that has become quite popular is the fall floral trend.
Florals are usually correlated with spring and summer, but they are just as stylish to sport in the fall and winter. They offer a fun statement to your looks and they can be accented in many different ways.
Here are a few rules to follow when you're sporting florals in the cooler months.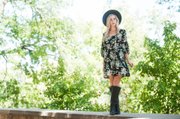 Rule No. 1: Wear dark-colored floral prints.
When you're wearing a floral pattern this fall, find one that has darker colors like blacks, browns or purples. Bright colors or pastels are more for spring and summer.
In the photo, my dress has a black background color with a floral print which is exactly what you should look for. Just remember that florals with a darker mood fit well with cold weather, whereas bright, cheery florals belong in warmer weather.
Rule No. 2: No head to toe florals.
For fall, you'll want to keep it subtle. Since I wore a floral dress, I kept my shoes and hat a neutral color.
You could also accent the floral trend with your accessories such as a bag, a necklace or floral pumps.
Florals are totally wearable this season — you just want to make sure you're not overdoing it.
Rule No. 3: Don't put away your summer florals just yet!
Pick out the darker-toned florals to wear this fall and winter. Warm them up with leather jackets, tights and turtlenecks. If you have them hanging around from the spring and summer, repurpose them for a cute fall floral look.
Either way you decide to style your florals this season, you'll be staying right on trend for fall. Here are a few places where we know you can find fabulous fall floral pieces:
• Forever 21, woven paisley print dress
• Urban Outfitters, floral slip-on sneakers
• H&M; floral leggings
• H&M; floral kimono
— Emily and Elizabeth Kennedy are twin sisters and fashion bloggers who share a blog called Fashion Column Twins. Emily writes this column. They can be reached at fashioncolumnblog@gmail.com.