Wednesday, October 1, 2014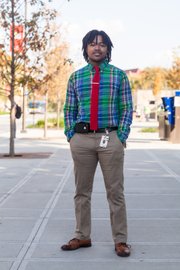 Name: Kareem Wall
Age: 22
Hometown: North Charleston, S.C.
Time in Lawrence: Three years
Occupation: I'm a student at KU as well as a peer educator at Lawrence Public Schools.
Dream job: If I had to pick a dream job, I'd be a stay-at-home writer.
What were you doing when scouted? I just got out of a meeting for a Martin Luther King project on behalf of my fraternity, Alpha Phi Alpha.
Describe your style: I want to say my fashion style is modern with a touch of retro.
Fashion trends you love: A lot of people don't like skinny [fit] clothing, but I like it. I really love my clothes to fit a little bit snug. I feel that it brings a bit of pop out of my style.
Fashion trends you hate: I guess I can't stand jean shorts. Personally, I just like to keep it classy. I like dress pants, dress shirts and a tie so I can call it a day.
Fashion influences: Honestly, I look at GQ magazine to see what's current. But I'd have to say my grandpa because he has this classic style from the '50s that I really dig. With that, I like to splash in a little bit of color, too.
What would you like to see more or less of in Lawrence? More places to buy suits. Less of? I really don't know. Everything in Lawrence is fine.
Tattoos or piercings: I have eight tattoos.
Whom do people say you look like? Ne-Yo and Larenz Tate.
What type of music do you like? Neo-soul and rap.
Tell us a secret: I like my friends to come in all shapes and sizes.
More like this story on Lawrence.com