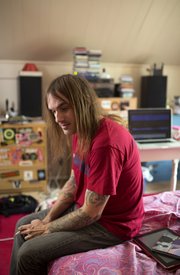 Lounging comfortably on the couch in his home, Kliph Scurlock says he has found peace since he was fired as the drummer of The Flaming Lips six months ago.
"I feel a lot calmer," Scurlock says. "Not as frazzled."
Needless to say, the parting of Scurlock, a Lawrence resident, and the Flaming Lips didn't end on the best of terms. Scurlock describes Lips' frontman Wayne Coyne as a workaholic who didn't have the ideas to back up the "ridiculous hoops [they] had to jump through."
"He put me on edge, almost all the time," he says. "There are things about the band that I miss, but certainly not him."
As word got out last May that Scurlock was no longer a Flaming Lip, he released a statement on Facebook describing the firing as a "devastating blow." He had been part of the band's road crew since 1999, and became an official member in 2002.

In the statement, he also recounted the events that led up to Coyne dismissing him, the catalyst being Scurlock's criticism of Christina Fallin — daughter of Oklahoma Gov. Mary Fallin and friend of Coyne's — who earlier this year posted an Instagram photograph of herself wearing an American Indian headdress, and followed that up with what Scurlock thought was an insincere apology.
Fallin then complained to Coyne about Scurlock's posts, resulting in a heated exchange of texts on March 19 that ended in a final one saying that he was fired.
In a May 9 interview with Rolling Stone, Coyne responded to Scurlock's claims, calling him a "pathological liar" and saying Scurlock was fired from the Flaming Lips for reasons beyond the Fallin incident.
For Scurlock, stages of emotion that have followed that 4 a.m. text on March 19 closely resemble those that follow a bad breakup.
"There's still a lot of it that I'm processing and figuring out exactly how I feel about it," he says. "I mean, 12 years — that's a long-term relationship.
"At first it was just utter disbelief. It was like, 'OK, he's going to calm down. Whatever.'"
As the day went on and he spoke with others in the group, however, it felt like it might stick, Scurlock says.
"Then I started having moments like, 'what am I going to do now? I'm 40 years old,'" Scurlock says.
Gaining some perspective, Scurlock says he doesn't even follow the band anymore for lack of interest in their music. The Journal-World spoke to Scurlock the night The Flaming Lips performed at Crossroads KC, and Scurlock had only heard they were going to be an hour away the night before.
"Honestly the direction that Wayne had been pushing us toward, especially for the past year and a half, is something I wasn't into," he says. "The stuff with Miley Cyrus, in particular, I'm just not into that. It's gone down this avenue of stuff I'm not interested in and what I didn't want the band to become."
Earlier this year, The Flaming Lips teamed up with Miley Cyrus on a few projects, including a cover of the Beatles' "Lucy in the Sky With Diamonds."
Scurlock, meanwhile, is keeping busy with projects of his own.
Fresh off a summer tour in the United Kingdom, with Gruff Rhys, of Welsh rock band Super Furry Animals, Scurlock sees a future full of music possibilities, he says. Unable to disclose any specifics, Scurlock says he will have more opportunities to collaborate with Rhys within the next year.
In the meantime, he's collaborating on projects with other musicians he admires, such as friend Marc Tweed in Seattle for a project called Split Level Stiffs.
On Oct. 30, he will join forces with a few musicians to play a live set after a screening of the 1974 cult horror-musical "Phantom of the Paradise" at the Lawrence Arts Center. The different characters in the film will be represented by soloists onstage.
Scurlock has also recently dipped back into the local music, finally able to spend enough time in Lawrence to scope out the rising talent since he moved to town right out of high school.
"I've been really out of touch for several years because I would spend, on average, 300 days a year away from home," Scurlock says.
Psychic Heat has made such an impression on him that he's now in the process of mixing the band's forthcoming record.
"Their music hits me where it counts," Scurlock says. "Their music sounds sort of timeless. They know musical history and are taking some things from the past, but they're not stuck in the past."
At this point, he says, he's very happy in Lawrence. The only other place that he could imagine himself is Wales, a country he fell in love with while touring with Rhys.
It may be the six-week "honeymoon" view of a new location, Scurlock says, or even that he lived 10 minutes away from his two all-time favorite bands, Super Furry Animals and Gorky's Zygotic Mynci. But for the moment, he's exploring it as his possible next big move.
"It was just amazing hanging out with my favorite bands while being over there to play with one of them," he says. "And I met a girl so it was like, 'yep, there another check in the I-should-move-here column.'"