Wednesday, October 8, 2014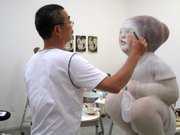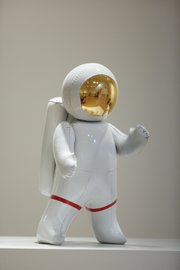 If you go
What: Ceramics Symposium 2014
Where: Lawrence Arts Center, 940 New Hampshire St.
When: The symposium will be held Friday and Saturday. Four ceramist exhibits will be on display until mid- to late November.
Cost: Entry to exhibits and artist talks are free. Workshops with the visiting ceramists are sold out.
Give them something to talk about. That's what Ben Ahlvers hopes to achieve during this weekend's Ceramics Symposium at the Lawrence Arts Center, 940 New Hampshire St.
The biennial event, now in its fourth cycle, is set to bring in six nationally recognized ceramists from across the country. On Friday and Saturday, the artists will host free presentations about their work at 1:30 p.m., in addition to giving demonstrations to a sold-out enrollment of about 100 throughout each day.
The ceramists — Sunshine Cobb, Gerit Grimm, Chris Gustin, Akio Takamori, Patti Warashina and Stan Welsh — will be paired off in three different rooms for the workshops, said Ahlvers, the Arts Center's exhibitions director and the main organizer of the event.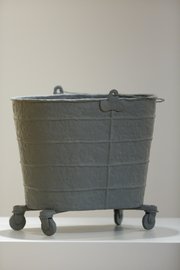 The idea, he said, is to facilitate conversation among the visiting ceramists and workshop participants. Often, the artists find a lot to learn just by working alongside each other.
"What ends up happening, and it's something that I really enjoy, is that there's this energy between the two artists and the audience," Ahlvers said. "They're talking about their work, their influences... that is inevitably going to engage the other artist, and it also starts engaging the audience."
The workshop's attendees often range from "tenure-track professors to high school kids," and much like the visiting artists, bring a diverse set of perspectives to the table.
The symposium also includes four exhibits that are free and open to the public: Souvenirs From the Future, Paper Plate, Russell Wrankle: New Works, and the Tea Project. All will end their run in mid- to late November. The Arts Center will host receptions for Russell Wrankle: New Works and Souvenirs From the Future from 7 to 9 p.m. Friday.
Unlike similar events at larger venues, the Arts Center's symposium offers a more personal experience, Ahlvers said.
"That's the intimacy of this thing that I think is something that you can't do, or at least can't do as easily, in a big conference where you have several hundred people in a room and those demonstrators are up on stage with a microphone," he said. "It's like seeing a show in a club versus seeing a show in a stadium."
Participating ceramist Takamori agrees. Demonstrating on your own — talking and working with the clay at the same time — can be "disorienting" and "too much," he said. But working alongside another artist creates an interesting dynamic, especially with peers from different generations and backgrounds, he said.
Takamori's figurative ceramics draw largely from his childhood in post-war Japan. The son of a dermatologist, he creates works that often have a basis in human physiology — bodies with strong, alert faces.
The Seattle-based ceramicist will give a demonstration in the same room with Patti Warashina, his former boss at the University of Washington. The two now hold professor-emeritus status, and sometimes run into each other at social events around Seattle.
But they've never done anything together like the Ceramics Symposium before, Takamori said, and he's excited to see what she has to say.
"I'm already thinking about what questions I'm going to ask her," he said.