Wednesday, October 8, 2014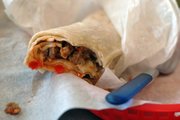 Take the Chipotle or Pita Pit concept, and replace all ingredients with Italian. That's more or less the formula at Cibo Sano, a fast-casual place specializing in build-your-own wraps, or cibos. The DaVinci is one of the suggested combinations, featuring a tortilla stuffed with spaghetti, Italian sausage, white beans, mozzarella, artichokes and peppers. Ingredients at the ready for building your own cibo include orzo pasta, salmon, pepperoni, Alfredo sauce, basil pesto, feta cheese, grilled squash and pepperoncini, to name a few.
Where to get it: Cibo Sano Italian Grille, 4821 W. Sixth St.
What you'll pay: $7.35
Try it with: An Italian soda. (Or a sweet from Scratch Bakery, which is right next door.)
Also on the menu: Pasta bowls and salad bowls. They're build-your-own, just like the cibos.
— Off The Beaten Plate highlights some of the more exotic, oddly named or inventively concocted dishes from local menus. Know of an offbeat item we should check out? Email reporter Sara Shepherd at sshepherd@ljworld.com. Follow her at Twitter.com/saramarieshep.