Wednesday, October 8, 2014
Apple juice's spicy cousin, this seasonal favorite is now available year-round thanks to its popularity. While it's wonderful alone either hot or cold, cider is also a pleasant addition to both sweet and savory dishes, where it can impart an unmistakable hint of autumn.
Delicious
I really love braising meat, especially in the fall and winter months. I think it's a really simple and relatively foolproof way to get a juicy and flavorful result with little effort.
The trick to good braising is to create a really special and delicious braising liquid, or the whole thing becomes like just boiling meat, which is gross.
Apple cider is among my favorite things to add to a braising liquid. It adds a sweetness and a tartness to the meat, and when used in conjunction with some fresh herbs, it really brings a lot of flavor to the party.
I've long been a hater of the chicken breast, but the thigh is another thing altogether. Chicken thighs are inexpensive protein, and they aren't as dry and tasteless as the boneless, skinless chicken breasts that seem to headline so many recipes. So for my apple cider recipe, I wanted to start with chicken thighs for their already tasty and moist properties. Throw in a little bacon, and you've got yourself a regular flavor hootenanny.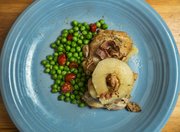 Our little tree out back produces lots of little green apples every fall, and I spend a lot of energy trying to find ways to use them up. They find themselves in a lot of pots doing unusual things, and this recipe is no exception. Of course, you can just buy apples at the store for this if you don't happen to have an apple tree outside your kitchen window.
Apple Cider Braised Chicken Thighs
6 chicken thighs
6 smallish apples, cored, peeled and sliced
6 strips of bacon
1/2 large yellow onion left in large hunks
3 cups apple cider
1 cup chicken broth
1/2 cup apple cider vinegar
Olive oil
Handful of fresh sage leaves
1 clove minced garlic
Salt and pepper
Salt and pepper your chicken breasts and heat a couple of tablespoons of olive oil in the bottom of a stock pot or dutch oven. Thoroughly sear the chicken on both sides. Don't skimp on this.
Then add in the bacon, cut into 1-inch pieces. Add the liquids and the onion (this is just for flavor and shouldn't make it onto the plate). Braise on the stovetop over medium heat for 40 minutes, and then add in the apples, sage, garlic and a dash more of salt and pepper. Braise for 15 minutes or until the apples are soft but not mushy.
Serve the chicken with apples and pieces of bacon on top, and sprinkle with fresh sage for color.
This is a one-pot masterpiece and easy enough to do on a weeknight. Kids love it because, well, they generally are fond of chicken, and adults appreciate the different flavor profile that the apple/sage combination brings to the plate.
Enjoy this with a side of mashed butternut squash or sweet potatoes for a perfect fall meal.
Nutritious
Confession: I have always loved apple cider doughnuts.
Always.
And my love of trying to eat healthy has never squashed that particular craving. Yes, I still walk by vendors selling those little mini apple cider doughnuts with a craving on my lips. And I can't go to the Louisburg Cider Mill without breaking down and buying one.
For me, apple cider doughnuts happen to be the perfect mix of comfort and flavor, and the balance of sweetness and spice just makes them irresistible no matter the time of year. I could probably eat one while roasting poolside in 105-degree heat and not think twice (or bother to chew before I swallowed).
Thus, when Megan and I decided on apple cider for this month's Delicious/Nutritious, I knew exactly what I had to do: Try to make a healthy version of apple cider doughnuts.
While these doughnuts pale in comparison to the real thing, they are pretty darn tasty — just so long as you don't expect to be mowed over with sweetness or that delicious, fatty mouthfeel you get from fried doughnuts. Because these doughnuts don't contain refined sugar and they're baked, not fried.
Still, if you, like me, hear the siren's call of the apple cider doughnut this time of year (or anytime, really) and want to try something that's a bit healthier, give these a go.
Healthy Apple Cider Doughnuts
3/4 cup oat flour or regular flour
1/2 cup chia seeds
1 1/2 teaspoons baking powder
1/4 teaspoon ground cinnamon
1/4 teaspoon apple pie spice
1/4 teaspoon nutmeg
1/3 cup maple syrup
1/3 cup apple cider
1 teaspoon vanilla
Preheat the oven to 300 F.
In a large bowl, combine the oat flour, chia seeds, baking powder, salt, cinnamon, nutmeg and apple pie spice.
Add the maple syrup, apple cider and vanilla and stir until combined.
Lightly grease a 6-cavity doughnut pan with coconut oil. Using an ice cream scoop, fill each doughnut cavity with batter.
Bake the doughnuts for 25 minutes, until firm to the touch.
Cool the doughnuts in the pan for about 10 minutes, and then carefully invert the pan onto a cooling rack. The doughnuts should pop right out; if they don't, let them cool a bit more and gently pull a knife along the edges of the wells to loosen them. Cool the doughnuts completely on the rack.
Serves six.
Note: If you don't have a doughnut pan, these doughnuts could be converted to muffins.