Wednesday, October 8, 2014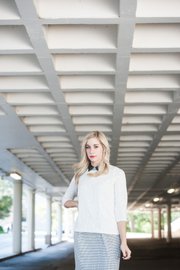 One thing that comes with seasons changing is trying to figure out how to change your wardrobe without having to go out and buy all new clothes.
Don't get me wrong. I love shopping, but to be honest, purchasing all new clothes for a new season can get expensive. One thing we are always trying to do is transition pieces from one season to another by adding pieces you already have in your closet. This can be easy to do but it requires some creativity.
In the photo, I'm wearing a sleeveless shirt dress that would normally be worn in the summer time. As the temps get cooler, throwing a lightweight sweater over the top makes it more fall appropriate.
The dress itself is great because it has some texture and a great peter pan leather collar. Choose a light-knit sweater to put over the top with a neckline big enough to still be able to see the collar pop through.
If you're not sold on the sweater, you could use a lightweight turtle neck under the dress. This adds some layers and will keep you warm as it becomes cooler.
Another option would be a cardigan over the top that would leave the front of the dress open. This would be great because you wouldn't be covering up the dress. With this dress, the collar is a focal point, so whatever you choose to add to it, make sure to let the collar shine!
You could add a pair of tights and boots to finish off the look. You could also recycle other summer pieces you have in your closet and transition them into the fall season as well. Dresses are one of the easiest to do that with, as are skirts, tank tops and even shorts.
One of my favorite holiday looks is a cute pair of shorts (choose either a black or darker color pair) and wear them with tights and booties and a dressy top.
Just because the seasons are changing doesn't mean you have to go out and buy all new clothes. What you are looking for is already in your closet!
— Emily and Elizabeth Kennedy are twin sisters and fashion bloggers who share a blog called Fashion Column Twins. Emily writes this column. They can be reached at fashioncolumnblog@gmail.com.
More like this story on Lawrence.com