Wednesday, October 8, 2014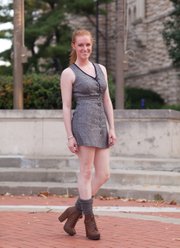 Name: Annika Wooton
Age: 20
Hometown: I was born in Overland Park but grew up in Virginia.
Time in Lawrence: Three years
Occupation: I'm studying art education.
Dream job: I want to be a high school art teacher.
What were you doing when scouted? Just came from an illustration class.
Describe your style: I thrift a lot… but occasionally I have to splurge if I find something I really like. I think art influences my fashion sense because I don't succumb to peer pressure style trends. As an artist, I'm more creative not only in my art but also in my fashion.
Fashion trends you love: I don't know if it's a trend this season but for the past few years I have really liked patterned and printed styles. I like to put prints together that you wouldn't necessarily expect.
Fashion trends you hate: I just read an article that guys don't like high-waisted shorts. I had no idea! They are apparently really against them and now I'm going to be self-conscious.
Fashion influences: For inspiration, I'm on Pinterest grabbing ideas all the time. I just like to mix and match. I also follow a few individuals on social media.
What would you like to see more or less of in Lawrence? More opportunities to be part of the Final Friday experience. Less of? Lawrence is really a positive pocket of the world for me.
Tattoos or piercings: My favorite tattoo is an ampersand that I got recently with my brother, who's also my best friend. In first grade, he had a brain tumor that was successfully removed. That amongst other important things brought us close. The ampersand makes him and me a team.
Whom do people say you look like? Batgirl, aka Barbara Gordon from the Batman comic books, is the most recent one I've gotten.
What type of music do you like? Alternative, rock and jazz
Tell us a secret: I'm a huge Batman fan!
More like this story on Lawrence.com