Wednesday, October 15, 2014
If you don't have the time or energy to deck your entire home out in fall decor, a seasonal centerpiece can do the trick.
And for less than $25, you can put together a look worthy of the cover of Real Simple or Martha Stewart Living.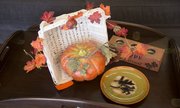 Think consignment
One way to get a deal on practically anything is to purchase the item second-hand. L.I. Home Goods, 711 W. 23rd St. Ste. 6, has a variety of fall centerpieces and decor. Prices range from $4 and up. L.I. Home Goods' inventory includes fall-themed ceramic plates, pumpkins, silk leaves, baskets, candles and place mats.
L.I. Home Goods owner Susan Cook said anyone can create a fabulous fall table without breaking the bank. She recommends starting with a cake plate and adding a pumpkin, some silk leaves and tealight candles. To finish off your festive table, Cook said, place solid-colored plates on fall-themed place mats, then add a single tealight candle on top of each table.

Buy local
For many people, the idea of buying home decor on Mass. Street is more terrifying than a trip to the haunted houses in the West Bottoms. I can assure you, even if you are on a tight budget, you should not be afraid of shopping local.
The key to shopping local is to have an idea of what you want when you enter the store, yet keep an open mind. When I recently took a trip down Mass. Street, I found several items that would be perfect for a fall centerpiece at Made, 737 Massachusetts St., and Ten Thousand Villages, 835 Massachusetts St.
Made has fabric pumpkins in a variety of prints and sizes that range from $11 to $18. Everything at Made is locally created, so buying items there supports local artists.
At Ten Thousand Villages I found everything from candle holders for $12, to fabric pumpkins for $6, to pumpkins and pears carved out of wood for $12. All of the items at Ten Thousand Villages are fair trade certified, so when purchasing goods there, you know the artisans have been paid in full.
Visit the patches
When someone recommended a trip to the pumpkin patches for fall centerpieces, I thought it was a good idea. When I Googled "DIY pumpkin centerpieces" I was amazed at the endless possibilities you can make with a pumpkin and some paint. If you have the time, you can create a centerpiece that will be the envy of all your friends.
Schaake's Pumpkin Patch, 1791 North 1500 Road, is open daily from 9 a.m. to 6 p.m. through Oct. 31. Pendleton's Country Market, 1446 East 1850 Road, also has a pumpkin patch. Pendleton's is open from 8 a.m. to 6 p.m. Monday through Saturday and from noon to 5 p.m. Sunday.