Wednesday, October 15, 2014
It was October 2011 and I was a new mom celebrating her baby's first Halloween. When I asked my veteran mom friends where the best local pumpkin patch was, the answer was always the same: Schaake's.
At about 40 years running, Schaake's Pumpkin Patch, east of town at 1791 North 1500 Road, is a fall mainstay for Lawrence families. But when I talked to Sheila Lynch, one of the now-grown children of Larry and Janet Schaake, the owners of the patch, my most burning question was more basic than the history or popularity.
"Since I have you on the hook, I just have to ask: How do you say the name correctly? Is it 'Shake-E'? 'Shack-E'?" I asked.
"It's shock-E," Lynch said with a chuckle, "But don't worry, everyone gets it wrong."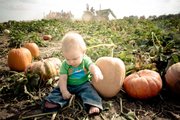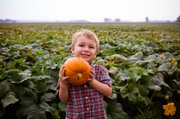 Photo Gallery
A Morning at Schaake's Pumpkin Patch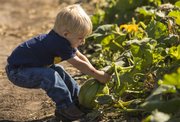 Children spent the morning looking for their own great pumpkin at Schaake's Pumpkin Patch, 1791 N 1500 Road, Tuesday, Oct. 7, 2014. The pumpkin patch is open daily through Oct. 31.
Of course, the history of Schaake's Pumpkin Patch is a good tale, too. Lynch said she and her brother initially began growing pumpkins as children because they wanted something to exhibit for 4-H at the county fair.

"Of course, you can't grow just one or two pumpkins, so we had extras," Lynch said. "Our parents said, 'Go sit on the highway and try to sell them,' so that's what we did."
While Lynch was quick to point out that those were different times, their roadside pumpkin stand was successful and eventually led to selling pumpkins at a co-op at 23rd and Haskell. When the co-op shoppers began asking for bigger pumpkins and different varieties, they would get invited back to the farm to pick their own. From there, the pumpkin patch business grew to include the whole family.
"We have family, close friends, boyfriends and girlfriends of family, all working — even the grandkids are never too young to help," Lynch said.
And just as growing pumpkins has become a tradition in the Schaake family, visiting their pumpkin patch is quickly becoming a tradition in mine.
That first year, we took advantage of the wonderful fall photo areas to snap a picture of the Kid in his Halloween costume, and he fell asleep on the hay rack ride. The year after that, he rode on his dada's shoulders through the hay bale maze. The next year, he proudly picked a pumpkin on his own, and we couldn't get him off the play equipment. And this year, he charged fearlessly into the hay bale maze all by himself. I can remember so many milestones based just on our annual trips to Schaake's.
Further, unlike some other pumpkin patches, the activities at Schaake's are free. While they do charge to take home a pumpkin and for concessions — try a cider slush — the hay ride, playground, photo area, hay bale maze, straw romp and farm animal viewing are all available for no admission charge. That makes a day at the pumpkin patch more fun as a parent, too!
Schaake's is open every year from the last weekend in September to Halloween, from 9 a.m. to 6 p.m. every day, including Sundays, so there's still plenty of time to plan a trip this year. There's no need to drive farther, we have one of the best little area pumpkin patches right here.
— Meryl Carver-Allmond lives in Lawrence and writes about chickens, babies, knitting, gardening, food, photography, and whatever else tickles her fancy on any given day at mybitofearth.net.