Wednesday, October 15, 2014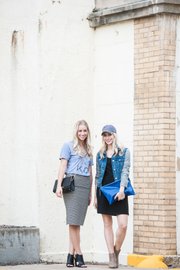 As we get further into fall, that means more weekends full of football, tailgating and cheering on your favorite team!

I always used to think trying to achieve a "sporty style" was difficult. Now I think it's one of the easiest looks to put together, and it's one of our favorites.

Wearing a sporty look doesn't have to be boring with an oversized cotton T-shirt or sweatshirt of your favorite sports team. We like to mix it up and add some of our personal style when cheering on our teams.

You can add some flair by switching it up with stylish pieces that you already have in your wardrobe. I love the idea of taking practical and casual pieces such as T-shirts or jackets and pairing them with something that you would never think to use, such as midi skirts or dresses. With pairings like these, you are sure to achieve a sporty look yet still look chic and trendy.
For our outfits, Elizabeth paired a T-shirt with a pencil skirt, which is a little unexpected but makes for a cute and interesting look. Mixing two pieces that don't necessarily go together can give you a surprisingly stylish look — try it sometime! It has a chic feel yet isn't so out there that you feel uncomfortable.
The wedge heel with the cutout detail makes the outfit edgy and fun. You could also try this with an A-line miniskirt and flats or any high-waisted bottom.

For my outfit, I opted for a dress paired with a casual denim fleece jacket, a baseball hat and ankle boots.
I also added some more blue with a pouch. This look is fun and great for game days. This would also be great paired with your favorite sneaker (we love Converse).

It's easy to add sporty style to your look with pieces you already have. So before you run off to grab a generic sports T-shirt, try looking for your team's colors in the clothes, shoes and accessories in your closet.
— Emily and Elizabeth Kennedy are twin sisters and fashion bloggers who share a blog called Fashion Column Twins at fashioncolumntwins.com. Emily writes this column. They can be reached at fashioncolumnblog@gmail.com.
More like this story on Lawrence.com