Thursday, October 23, 2014
Halloween isn't just for trick-or-treating. There are plenty of spooky events on the calendar from now up to the big day for children and adults alike.
We've rounded up some of the intriguing Halloween-y activities going on in Lawrence this year. And there's more where these came from — check out our events calendar for more spooky, scary ideas.
For kids
Halloween fun at Lawrence Public Library
The Lawrence Public Library, 707 Vermont St., is hosting a number of spooky activities during the week of Halloween.
First up: They're Watching You!, an activity straight out of "Scooby-Doo" lore — pictures with eyes that seem to follow you as you move past. Participants can learn how to make Halloween decorations out of old-timey photographs from 2 to 3 p.m. Thursday.
From 2 to 3:30 p.m. Friday, celebrate Mexico's Day of the Dead (observed Oct. 31 to Nov. 2, the holiday is a time to honor deceased friends and family members) by crafting your own Día de los Muertos ofrendas (shrines) made from Altoid tins, colorful calaveras (skulls) and calacas (skeleton figures). All supplies are included, but don't forget to bring a small photo print of your loved one. Both free events are recommended for grades six through 12, and will take place in the library's Reader Theater just off the TeenZone.
Halloween Monster Ball
Costumes are encouraged at the Lawrence Arts Center's Halloween Monster Ball, where members of Lawrence Ballet Theatre and the Arts Center's School of Dance will perform modern incarnations of classic Halloween tunes. Performances are slated for 3 p.m. Saturday and Sunday and 4 p.m. Oct. 31. Tickets are $10 for adults, $7.50 for students and seniors, and $5 for children ages 5 and younger.
Kansas University Symphony Orchestra Halloween Concert
Each year the KU Symphony Orchestra dresses up in costume and puts on a spooky Halloween-themed concert. This year's edition, slated for 7:30 p.m. Oct. 30 at the Lied Center of Kansas located on 1600 Stewart Drive, will feature Igor Stravinsky's "Firebird Suite" and "Circus Polka," Richard Strauss's "Thunder and Lightning Polka (March)" and Michael Daughtery's "Dead Elvis," a 1993 composition inspired by the King himself. As always, costumes are encouraged. Tickets cost $8 for adults, and $6 for seniors, children and students.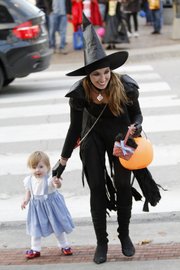 Downtown Lawrence Halloween Trick-or-Treat
Celebrate Halloween in the heart of the city with this family-friendly event. Downtown merchants will hand out treats and trinkets to trick-or-treaters starting at 5 p.m. Oct. 31.
Lawrence Monster Mash
Stop by The Toy Store, 936 Massachusetts St., from 6 to 8 p.m. Friday for an evening of ghoulish crafts, snacks and more. A photo booth will also be on hand, so don't forget to wear your costume. Call The Toy Store at 331-3218 for more information.
"Young Frankenstein"
Liberty Hall, 644 Massachusetts St., is celebrating the 40th anniversary of "Young Frankenstein" with special screenings at 4 p.m., 7 p.m. and 9:30 p.m. Sunday. The black-and-white Mel Brooks comedy is a silly riff on the classic horror genre, and stars Gene Wilder as a descendent of the infamous Dr. Victor Frankenstein. Tickets are $8 for adults and $7 for seniors and children under 12.
For older folks
Foxy By Proxy Burlesque Revue's 5th Annual Halloween Hextravaganza
The women of Foxy By Proxy Revue will present an evening of horror and hilarity at Liberty Hall, 644 Massachusetts St., Halloween night. The Lawrence-based burlesque troupe's spooky show will begin at 10 p.m. with doors opening at 9 p.m. Come dressed in costume as the best will win a $50 prize at the end of the performance. Tickets are $10 and can be purchased online or at the Liberty Hall box office. This one's for the 18-and-over crowd only.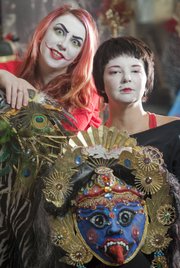 "The Masque of the Red Death"
Watch artists with Lawrence's AIM Dance Company interpret Edgar Allen Poe's "The Masque of the Red Death" at the Castle Team Room on Oct. 24. Audience members will travel through the castle, 1307 Massachusetts St., where each room will host a new dance as the story unfolds. Performances are slated for 5:30, 6:30, 7:30 and 8:30 that evening. Tickets cost $10 plus fees, and can be purchased through Facebook. Registration is required.
Fashion Monsters VI: Things That Go Bump in the Night
Presented by Wild Man Vintage and Arizona Trading Company, this creepy catwalk show at the Replay Lounge, 946 Massachusetts St., will benefit the Social Service League of Lawrence. See original designs and styling from local retailers, performers and artists at 8 p.m. Saturday, followed by music from OILS, Psychic Heat and La Guerre (inside the venue) and Gold Label Soul with Hector the Selector (on the patio). Admission (for 21 and up only) is $3.
Lawrence vs. Zombies 2014
Kill or be killed at this year's Lawrence vs. Zombies, the annual showdown between zombies and zombie hunters at Kansas University's Ecumenical Campus Ministries, 1204 Oread Ave. During this two-night event, from 7 to 11 p.m. Friday and Saturday, Nerf-gun-toting "survivors" form teams and must work together to complete each round while "zombie" participants "attempt to eat their brains," according the event's website. Online registration is closed, but passes can still be purchased at the door. More information can be found online or by emailing lawrencevszombies@gmail.com.