Thursday, October 23, 2014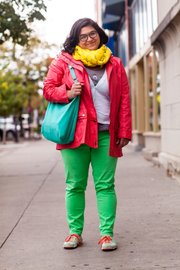 Name: Amy Santoferraro
Age: 34
Hometown: Akron, Ohio
Time in Lawrence: Only six hours
Occupation: I'm an assistant professor of ceramics and an artist.
Dream job: I'm living the dream already, but I might like to run a hotel where I curate rooms and guests can purchase objects from their visit.
What were you doing when scouted? I was getting in some bigger city shopping and taking a break from the Ceramics Symposium at the Lawrence Arts Center.
Describe your style: My friends have noted that I look like a playground.
Fashion trends you love: I love stripes and color! I never tire of either. 
Fashion trends you hate: The Han Solo [look]: the black leggings, brown boots and belted vests have swept… everywhere. It's gotta go!
Fashion influences: Toddlers. I appreciate the ability to pick out an outfit in a minute, and the biggest consideration is leaving the house with or without a cape or tutu.
What would you like to see more or less of in Lawrence? More people! It's 5 p.m. on a Friday — where is everyone?
Tattoos or piercings: One very regrettable lower-back tattoo. I was 17 and it seemed like the perfect souvenir to remember London. I don't ever see it, so it's easy to chalk it up to youth. Thank goodness!
Whom do people say you look like? Usually it's someone's cousin or old best friend. I used to get Juliette Lewis.  
What type of music do you like? I'm on an old country/country-gospel kick right now. But I think the world of Brian Eno and David Byrne. 
Tell us a secret: I used to ditch recess in middle school to quilt with the ladies quilting guild. 
More like this story on Lawrence.com