Saturday, October 25, 2014
Halloween is on a Friday this year, something that hasn't happened since 2008 and 2003 — years in which I threw parties where my guests and I consumed cigarettes, pumpkin ales and peanut butter cups until we probably looked like prematurely rotted jack-o'-lanterns.
I'm a more relaxed, health-conscious family man these days, so this column will include a mix of family events as well as a few slightly more debaucherous options.
The Kansas City Symphony is presenting two spooky and sensuous events this week, including a Wednesday night screening of F.W. Murnau's classic 1922 horror film "Nosferatu" accompanied by organist Dorothy Papadakos. Tickets are $20 for student seats and $35 and up for adult tickets.
At 8 p.m. Friday and Saturday, the Symphony will present "Mysterioso: A Magical Night," a musical variety show featuring magic, illusions and comedy acts as well as themes from classic television shows and films. Tickets are $40 and up at kcsymphony.org.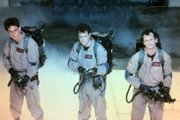 On Friday at the Broadway Jazz Club, the stylish, ukulele-strumming duo Victor & Penny will perform an evening set of prohibition-era jazz and pop tunes along with Kyle Reid and the Low-Swinging Chariots. Costumes are encouraged for this jazz-age Halloween Extravaganza. Reservations can be made at thebroadwayjazzclub.com.
With the 1931 Art Deco Power & Light building rumored to be the inspiration for the climactic scene in the 1984 movie "Ghostbusters," Kansas Citians have long had an affinity for the cheesy science/fantasy flick.
On Halloween Night, some local jazz musicians and DJs are celebrating the film's 30th anniversary with a "Ghostbusters Ball" at the Guild, an impressive private event space at 1621 Locust in the East Crossroads. The event starts at 9 p.m. and costs $10.
Little ones can enjoy haunting one of Kansas City's other iconic buildings from 4 p.m. to 8 p.m. Friday, when the Kansas City Museum at Corinthian Hall hosts a "Scare-It Halloween" (the neighborhood is named "Scarritt Renaissance") featuring inflatables, a haunted house and other children's activities.
The recently restored Corinthian Hall is located at 3218 Gladstone, and more information about museum events can be found at kansascitymuseum.org.
This weekend is also the last chance to visit Worlds of Fun, which has plenty of Halloween-themed activities during the daytime that are not too spooky for kids, including the Howl-O-Scream Kids Zone, Trick-Or-Treat Tales and the Magical House on Boo Hill.
Worlds of Fun is open from 11 a.m. to 7 p.m. today, 11 a.m. to midnight Saturday, and from 11 a.m. to 7 p.m. Sunday. Check out worldsoffun.com for special ticket discounts.
The Kansas City Zoo has discovered a creative way to bid a quick farewell to the Halloween season with its Great Pumpkin Smash, during which the larger animals will crush, kick, bounce and play with big orange pumpkins. The GPS is scheduled at intervals between 10:30 a.m. and 3 p.m. Saturday.
From 3 p.m. to 6 p.m. Saturday, the restaurants along 14th Street in the Power & Light District will be throwing a Wicked Wine Walk, which includes wine and small plates, as well as music and artwork, at restaurants including The Bristol, Bar Louie, Kill Devil Club and Maker's Mark Bourbon House & Lounge, among others. Tickets cost $30, with a portion of the proceedings going to benefit ArtsKC.
If you've ever wanted to check out the restaurants in this area, this is a good way to experience a lot of them at once. Visit powerandlightdistrict.com to purchase tickets or VIP passes.
Saturday is also the Pitch Weekly's annual Crafts and Drafts festival at the Uptown Shopping Center at 36th and Broadway, and will feature artwork and handmade goods from over 50 vendors, as well as food trucks and over 25 microbrews. The event is mostly indoors, and will be held rain or shine from 11 a.m. to 6 p.m.
— Lucas Wetzel is a writer and editor from Kansas City, Mo. Know of an upcoming event in Kansas City you'd like to see featured in Kansas City Connection? Email us about it at kcconnection@ljworld.com.