Wednesday, October 29, 2014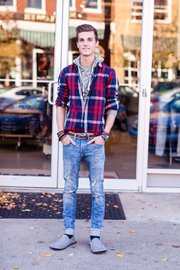 Name: Chance Phillippe
Age: 21
Hometown: Olathe
Time in Lawrence: A couple of months
Relationship status: I'm married.
Occupation: I work at the Buckle and I'm an [aspiring] graphic designer.
Dream job: Honestly, I want to be a stay-at-home dad.
What were you doing when scouted? Enjoying the day at work.
Describe your style: I'm pretty open and I like to try new things… I used to be classy casual with overcoats, nice boots and skinny jeans that were made of non-jean materials. Now, I believe my style is [fashion] forward.
Fashion trends you love: I'm digging different things: acid-wash jeans and a more layered/grungy look. I also love the simple classy/casual look: nice haircut, basic sunglasses, a jacket, a tucked-in dress shirt made of nice material and khaki skinny jeans.
Fashion trends you hate: Athletic shorts with open-toed sandals with socks.
Fashion influences: I learn a lot from the people I work with.
What would you like to see more or less of in Lawrence? More fashion-forward individuals in this diverse community. Less of? Students who think that since they're poor, they don't have a need to dress up. I'd like to see them feel good about themselves because when you dress up and do things for yourself, you feel good and you do better academically.
Tattoos or piercings: I have two piercings and seven tattoos.
Whom do people say you look like? I get Justin Bieber all the time and that gets annoying!
What type of music do you like?  I'm a top 40s type of person!
Tell us a secret: When I'm attracted to a person, I look at their personality, spirituality or how they carry themselves rather than how they physically look. I don't think a lot of people do that nowadays.