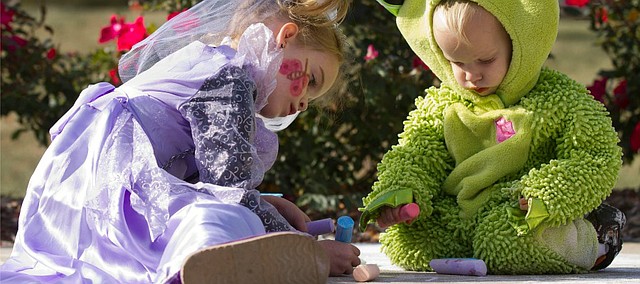 Wednesday, October 29, 2014
Today in Lawrence
is an early-morning digest of essential and not-so-essential info to start your day in Lawrence and Douglas County.
Click here
for past installments.
Boo-tiful day
It's another frighteningly beautiful day, with sunny skies and a high of 62 degrees. Winds will be light and variable, and the overnight low will be about 45 degrees. Perfect for getting out for some Halloween fun this evening!
Score some candy
There are a few trick-or-treat options for the kids tonight: The Lawrence First Church of the Nazarene, 1470 North 1000 Road, will have a Trunk or Treat from 6 to 8 p.m.; Central United Methodist Church, 1501 Massachusetts St., will also have a Trunk or Treat event from 6:30 to 8 p.m.; and trick-or-treat with Jayhawk student athletes at Crimson & Boo, 6:30-8 p.m., Booth Family Hall of Athletics, Allen Fieldhouse, 1651 Naismith Drive. Come in costume!
Book club for all
Dive into the latest, hottest book club picks with the Last Wednesday Book Club! Selections range from beloved classics to modern book club favorites. Anyone who's read the book for the current month is invited to participate. The group meets at the Lawrence Public Library, 707 Vermont St., downstairs in Room B. October's selection is "The Good Lord Bird" by James McBride.
Yesterday's most-read
More Oct. 29 events
1 Million Cups presentation, 9-10 a.m., Cider Gallery, 810 Pennsylvania St.
Grant Funding Workshop, 11 a.m.-1 p.m., Lawrence Public Library, 707 Vermont St.
Big Brothers Big Sisters of Douglas County volunteer information, noon, 2518 Ridge Court.
ECM University-Community Forum: CACTUS by Witness for Peace, noon-1 p.m., ECM Building, 1204 Oread Ave.
Fall 2014 Study Groups: Behind the Byline: Political Journalists on the Midterm Election, 4-5:30 p.m., Dole Institute, 2350 Petefish Drive.
Steak/Salmon Night, 5-7:30 p.m., Eagles Lodge, 1803 W. Sixth St.
Douglas County Commission meeting, check website at douglas-county.com for meeting time, Douglas County Courthouse, 1100 Massachusetts St.
Goran Sabah Ghafour: Book Talk, Signing & Reception, 5:30-7 p.m., Jayhawk Ink Lounge, Kansas Union, 1301 Jayhawk Blvd.
American Legion Bingo, doors open 4:30 p.m., first games 6:45 p.m., snack bar 5-8 p.m., American Legion Post #14, 3408 W. Sixth St.
Faith Forum: Islam and Peace and War, supper 6:30 p.m., presentation 7 p.m., ECM Building, 1201 Oread Drive.
Kansas City Symphony Presents: Screenland at the Symphony — "Nosferatu," 7 p.m., Kauffman Center for the Performing Arts, 1601 Broaday, Kansas City, Mo.
Ballroom/Latin Dance Class, 7-8:30 p.m., Big Six Room, Eldridge Hotel, 701 Massachusetts St. (No partner required.)
Conroy's Trivia, 7:30 p.m., Conroy's Pub, 3115 W. Sixth St.
Pride Night, 9 p.m., Wilde's Chateau, 2412 Iowa St.