Wednesday, September 3, 2014
Without the right bag, it can feel like you have the weight of the world on your on your shoulders.
A laptop, notebooks, files, makeup, tablets, water bottles, snacks and anything else you need for the day requires something large and sturdy. I recently set out for a new bag to carry to work and discovered a few tricks to find a good deal on what I wanted.
Think seasonless and save
I made Weaver's, 901 Massachusetts St., my first stop on my bag hunt. I headed straight to the back where there were marked-down summer bags and discovered a green, orange and brown-striped tote that had been marked down to less than $20. This bag was large enough to fit my laptop as well as a slew of file folders, which made it perfect for work.
How did I find such a steal? This tote, while being the perfect fit for a laptop, was actually made for the beach.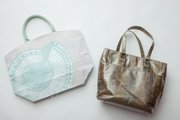 A simple secret to finding great deals is to think outside the box. The shape and colors of this summer beach bag make it serve as a great work bag for the fall. And next summer when I'm tired of using it for work I can throw some beach towels, water bottles and snacks and use it for the pool.
I continued down Mass. and found similar "beach" bags at other stores that would be great as multipurpose bags. Francesca's, 742 Massachusetts St., is currently offering 30 percent off its clearance items. The store has a variety of bohemian-printed totes marked down to $9.98. With the extra 30 percent off, that's $6.98.
These bags are large enough to take to the office, use for a weekend trip, or for the plethora of items you need to haul with you if you have children.
Look past labels for the best deals
A few months back I gave my aunt a hard time for using a diaper bag as her work bag. Sure, it was a designer bag. And sure, it was cute. But it was a diaper bag.
I stopped teasing her when I realized the orange and magenta leather bag I had bought second-hand to use for work was actually a diaper bag, too.
I've gotten tons of compliments the diaper bag that I've converted into a computer bag. The truth is, diaper bags aren't what they used to be. You can find some cute, trendy bags at children's consignment shops like Doodlebugs, 816 Massachusetts St., or 2 Shy Kids, 3514 Clinton Parkway, for a steal.
If all else fails, head south
If you don't have any luck with these tips or don't have time to shop around, head south on Iowa Street. T.J. Maxx, Ross, and Kohl's always have bags at discount prices. Ten times out of 10 you will be able to find a bag large enough to meet all of your needs for under $25 at these stores.
You may be carrying the weight of the world on your shoulders, but it doesn't have to feel like it.
— Arley Hoskin is a writer, mom and avid bargain shopper. Follow her at Twitter.com/ArleyHoskin for updates on local bargains.