Wednesday, September 10, 2014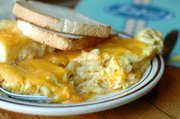 An omelet stuffed with macaroni and cheese — hey, why the heck not? This has three eggs, cheese, elbow macaroni and more cheese, and it's served with toast and your choice of side. If you want even more carbs and cheese, go with the cheesy grits casserole. Or there's always fruit.
Where to get it: Ladybird Diner, 721 Massachusetts St.
What you'll pay: $8.99
Try it with: Hot sauce. And afterward, a slice of pie — there's different selections daily, all handmade in-house.
Also on the menu: More omelets (kielbasa with peppers, cream cheese and mustard is another interesting one), pancakes, rum raisin French toast, chicken-fried steak, sweet potato and black bean hash, tuna salad sandwich with crushed potato chips, an open-faced pot roast sandwich and burgers (single, double OR triple). Plenty of sweets, too, including a peanut butter milkshake, root beer float, cherry phosphates — and did we mention pie?
— Off The Beaten Plate highlights some of the more exotic, oddly named or inventively concocted dishes from local menus. Know of an offbeat item we should check out? Email reporter Sara Shepherd at sshepherd@ljworld.com. Follow her at Twitter.com/saramarieshep.