Sunday, September 14, 2014
Check out more fall arts and entertainment events happening in Lawrence in our Fall Arts Preview.
• Take a look at the diverse performances coming to the
Lied Center
.
• A rundown of the
biggest fall concerts
happening in Lawrence.
• Kansas City Connection has the lowdown on
what to do in KC
this fall.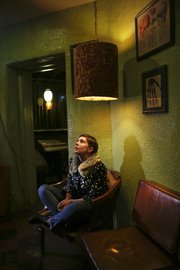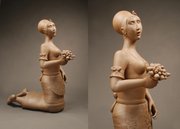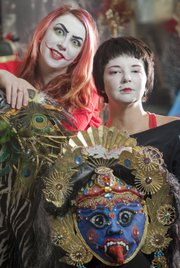 As the cool weather makes its way into Lawrence, make your way inside to the nearest exhibits, readings, performances, music and lectures by artists coming through town and those who live here. Mark your calendar for some of these notable events:
Banned Books Week
Sept. 18, 21-27, Lawrence Public Library, free
For the third-straight year, Lawrence Public Library put out a call for artists to create original artwork representing any banned or challenged book in honor of Banned Books Week from Sept. 21-27. Seven designs were selected and printed on trading cards, with artwork on the front and information about the book on the back. One new card will be passed out each day of the week at the library and Lawrence Arts Center. Winners will be revealed at a Banned Books Trading Cards Reveal Party at 7 p.m. Sept. 18 at the library, 707 Vermont St. Kansas University theater professor John Staniunas will channel Edgar Allan Poe as the master of ceremonies.
"Little Shop of Horrors"
7:30 p.m., (2:30 p.m. on Sundays) Sept. 19-28, Oct. 3-5, Theatre Lawrence, $16 children, $25 adult, $22 senior/student
A rocking horror musical and spoof of 1950s science-fiction movies, "Little Shop of Horrors" follows the life of nerdy florist Seymour who raises a plant named Audrey II — named after his love interest — that feeds on human flesh to survive. Throughout the musical, Seymour tries to keep the plant alive while keeping his dark secret as Audrey II grows up — and then some. The Theatre Lawrence cast and crew will present Audrey II as a mechanical puppet that grows in size over four phases throughout the production.
After Hours with Patricia Lockwood
7 to 9 p.m. Sept. 19, Lawrence Public Library, free
Local poet Patricia Lockwood will be reading from her new book "Motherland Fatherland Homelandsexuals" that was released in May to critical acclaim. Lockwood has stirred up some literary fame within the past year and a half, first with the online publication of the poem "Rape Joke" on The Awl website, receiving more then 100,000 likes on Facebook. "Rape Joke" was later selected for inclusion in The Best American Poetry 2014 volume. She also was crowned "Smutty-Metaphor Queen" of Lawrence in the New York Times Magazine in May in conjunction with the release of her latest work.
Russell Wrankle
9 a.m. to 9 p.m. Sept. 26-Nov. 8, Lawrence Arts Center, free
Hailing from Toquerville, Utah, by way of Palm Springs, Calif., Russell Wrankle uses animal sculptures — hares, dogs, frogs and crab claws, to name a few — to tell personal narratives. In his artist bio, he uses Aesop's Fables as a comparison for the work that he does, as both mediums use animals to express human truths and characteristics. Universal feelings such as happiness and suffering are themes he explored in the new works to be on display at the Lawrence Arts Center, 940 New Hampshire St.
The Tea Project
9 a.m. to 9 p.m. Oct. 2-Nov. 14, Lawrence Arts Center, free
Amber Ginsberg and Aaron Hughes create a ceramic installation that depicts a scenario in which a Guantanamo Bay guard falls in love with the drawings on the Styrofoam cups carved by detainees. Hughes is a ceramist who began the Tea Project in response to his military deployment to Kuwait and Iraq as a way for people to address difficult topics and find meaning in trauma. Ginsberg is an artist and lecturer out of University of Chicago who creates site-generated projects and social sculpture that insert historical scenarios into present-day situations.
From Berlin to Baghdad: When Art Historians Go to War
5:30 to 6:30 p.m. Oct. 2, Spencer Museum of Art, 309 Auditorium, free
Kansas University alumna Corine Wegener will deliver a lecture titled "From Berlin to Baghdad: When Art Historians Go to War," as she is the 2014 recipient of Franklin D. Murphy Distinguished Alumni Award, honored by the Kress Foundation Department of Art History. Wegener is a modern-day monuments woman. Much like the Monuments Men who traveled to Europe to recover art stolen by Nazis, Wegener travels into areas of war-torn countries to help museums reclaim and protect their cultural treasures as a cultural heritage preservation officer.
Space Time: An Adventure in Melody and Rhythm
7 p.m. Oct. 6, KU Commons, free
Purnaprajna Bangere and Supreet Deshpande will perform Indian classical music on the violin and Tabla (similar to the bongos), in this event sponsored by the KU Commons and Hall Center for the Humanities. Bangere studied under southern Indian violinist HKN Murthy, playing Parur style, characterized by high technical virtuosity and musicianship. Deshpande was a child prodigy who trained under his father, Pt. Kiran Deshpande; his style consists of a soothing balance of sound, technique and complex rhythms.
Ceramics Symposium
9:30 a.m. to 4:30 p.m. Oct. 10-11, Lawrence Arts Center
Six nationally recognized ceramists — Sunshine Cobb, Gerit Grimm, Chris Gustin, Akio Takamori, Patti Warashina and Stan Welsh — will demonstrate sculpting processes, wheel throwing, surface decoration and glazing for two days in studios at the Lawrence Arts Center. The artists will be paired up in three studios and will share a wide range of techniques as they interact with the audience. Visitors are encouraged to check out all three studios from 9:30 a.m. to 4:30 p.m. over the two days. This symposium is held every two years to offer the public a look into the contemporary ceramics art world.
James McBride
7:30 p.m. Oct. 22, Liberty Hall, free tickets on first come, first serve basis
Lawrence Public Library is kicking off the first annual Ross and Marianna Beach Author Series with National Book Award winner James McBride. McBride will do a reading from his latest book "The Good Lord Bird," a fictional, irreverent account of a young slave who joins John Brown's abolitionist mission. Gospel jazz quintet the Good Lord Bird Band will join McBride onstage, providing musical backup to the author's readings from the novel. The night will also include a special performance by Lawrence's Ninth Street Baptist Church choir.
Edward Gant's "Amazing Feats of Loneliness"
8:30 p.m. Oct. 23-Nov. 8, Lawrence Arts Center, $15 adults, $12.50 seniors, $10 students
Playwright Anthony Neilson's "Amazing Feats of Loneliness" is based on historic ringmaster Edward Gant and his renowned traveling show, a spectacle of grotesquery, humor and magic realism. Lawrence's Card Table Theater company, directed by Jacqueline Grunau, brings this Victorian freak show to life in two stories: the story of an Ugly Girl whose pimples burst into pearls and a lovesick man with a cork in his brain. The production will feature live music by the Free State Liberation Orchestra Gypsy Band.
Foxy By Proxy Burlesque Revue's 5th Annual Halloween Hextravaganza
10 p.m. Oct. 31, Liberty Hall, $10, ages 18 and over
Lawrence burlesque troupe Foxy By Proxy is holding its annual Halloween costume party at Liberty Hall this year. The event page tells attendees to "come witness the HORROR" of a terrifying, hilarious and gruesome spectacle, in a variety show choreographed and costumed by the scantily clad members of the group. Attendees are encouraged to come in costume, and the one deemed best will receive a $50 cash prize.
"The Big Meal"
7:30 p.m. (2:30 p.m. on Sundays) Nov. 14-23, Crafton-Preyer Theatre, $18 for adults, $10 for children, $17 for seniors, $10 students
Directed by Peter Zazzali, "The Big Meal" follows the growth of one family through five generations in one never-ending metaphoric meal. It begins with a young couple on their first date and expands as parents, children and grandchildren gather at the table. They discuss common familial problems over a lifetime such a marital issues, parent/child conflict and loss of a loved one, incorporating both humor and heartache to show the universality of the American family.