Sunday, September 14, 2014
The Lied Center has a reputation for bringing world-class performers to the community, and this fall is no different. From critically acclaimed musicians to Broadway stars to comedians, here is a preview of this fall's Lied Series events:
Jazz at Lincoln Center Orchestra with Wynton Marsalis, 7:30 p.m. Sept. 24, $19-$50
Grammy award-winning jazz trumpet player Wynton Marsalis leads 15 leading soloists of the Jazz at Lincoln Center Orchestra in a night of music by Marsalis, as well as masterworks by other composers, including orchestra members' works.
Yun‐Chin Zhou, piano, 2 p.m. Sept. 28, $16-$30
Enjoy the collaborative performance of pianist Yun-Chin Zhou and Paul Huang on violin. Zhou won seven concert prizes last year and was named a winner of the 2013 Young Concert Artists International Auditions.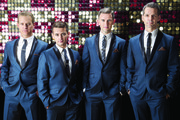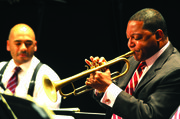 KU Symphony Orchestra with Joshua Roman on cello, 7:30 p.m. Sept. 30, $14-$25
The Kansas University Symphony Orchestra takes the stage with musician Joshua Roman, who spent two seasons as principal cellist of the Seattle Symphony, starting at age 22.
Sphinx Virtuosi, 2 p.m. Oct. 5, $11-$20
Performing its 2014 program, "AMERICANA," the 18-member string orchestra will perform works by American composers, including new work by composer-in-residence Jessie Montgomery called "Banner!", celebrating the centennial of "The Star Spangled Banner."
Joyce Castle, 8 p.m. Oct. 6, free
Listen to KU Distinguished Professor Joyce Castle's mezzo-soprano voice in a concert showcasing her versatile musical talents with an opera repertoire of 140 roles.
The Midtown Men, 7:30 p.m. Oct. 9, $19-$50
Four original cast members of "Jersey Boys" join forces to put their own twists on '60s hits from The Beatles, The Beach Boys, Motown, The Four Seasons and more.
"Basetrack," 7:30 p.m. Oct. 15, $11-$30
"Basetrack" uses live music, journalism and technology to draw on soldiers' stories from those serving in Afghanistan to start a conversation about the legacy of war.
Colin Jost, 7:30 p.m. Oct. 16, $7 for students, $12 for general public
Head writer of "Saturday Night Live" and Weekend Update co-anchor Colin Jost delivers some of his comedy.
Circo Comedia, 7 p.m. Oct. 18, $11-$25
Expect a culmination of comedy and daredevil stunts as Jean Saucier uses juggling, magic tricks and other skills to entertain, while assisted by clown Patrick Côté.
An Evening with Leo Kottke, 7:30 p.m. Oct. 25, $11-$30
A master of acoustic guitar, Grammy-nominated Leo Kottke performs favorites from his three records "Greenhouse," "My Feet Are Smiling" and "Ice Water."
"Anything Goes," 7:30 p.m. Oct. 28, $21-$55
Watch the romance evolve between two couples as the S.S. American crew heads out to sea in this Tony-winning Broadway hit.
Vienna Boys Choir, 2 p.m. Nov. 2, $11-$35
The world-famous 25-member, internationally touring all-boys choir made up of choristers between age 9 and 14 will perform for the first time at the Lied Center.
City and Colour
8 p.m. Nov. 5, Lied Center, $26
City and Colour is the solo acoustic pop-rock project of former Alexisonfire guitarist Dallas Green. The Liberty Hall show in November was a last-minute addition on the Canadian's fall tour to support his fourth studio album, "The Hurry and the Harm." Green's record reflects honest lyricism, soft melodic sounds and an emotional journey through Green's mind during the final days of Alexisonfire. Most notable about a his development as a solo artist is his shift from basic acoustic guitar, piano and vocals on his previous albums to full instrumentation on his latest. He's also ditched the moody folk singer descriptor and has transformed into a catchy but thoughtful singer-songwriter.
Beatrice Rana, piano, 2 p.m. Nov. 9, $11-$30
Listen to the soulful performance of Italian pianist and Van Cliburn award-winning pianist Beatrice Rana, known for adding personalized touches to each song.
Rennie Harris Puremovement
7:30 p.m. Nov. 14, Lied center, $11-16 for students, $20-$30 for adults
The Rennie Harris Puremovement aims to deconstruct negative general perceptions of hip hop presented by the media and introduce audiences to sophisticated hip hop dance theater. Rennie Harris founded the troupe with the belief that hip hop can explore themes beyond racial, religious and economic boundaries and present the voice of the new generation. For a two-hour program, Harris choreographed a centerpiece entitled "Rome and Jewels" that places Romeo and Juliet in a hip hop world with mesmerizing back flips, aerials and tight dance moves.