Sunday, September 14, 2014
If you ask me, fall is the best time of year to explore Kansas City. In addition to the bright colors and pleasantly cool temperatures, an abundance of festivals, concerts and activities make an autumn visit to KC a must. Here are a few seasonal highlights and ideas for what to check out.
Drink coffee and take a walk
Kansas City is currently experiencing what economists call a "bean boom," i.e. a proliferation of high-quality, locally owned coffee shops. Many of them are located near some of the city's finest parks and trails, setting up a perfect opportunity to grab a cafe au lait to go and take a stroll.
The excellent new Crow's Coffee, on 304 E. 51st. St., is right next to the Trolley Track Trail and not far from Loose Park.
Mud Pie, on 1615 W. 39th St., is just down the road from the hilly, wooded contours of Roanoke Park.
And Quay Coffee, at 412 Delaware St. in the City Market, nearly crosses paths with the Riverfront Heritage Trail.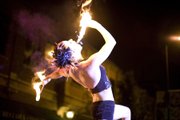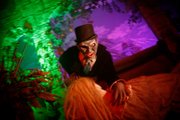 Go record shopping
For a few years, it looked like record buying in Kansas City might be a thing of the past, but several stores have opened recently that offer a mix of new, reissued and used vinyl.
The aptly named Vinyl Renaissance, which also sells hi-fi equipment, has locations at 1415 W. 39th St. and at 7932 Santa Fe Drive in Overland Park. Mills Record Company, at 314 Westport Road, is expanding to allow for more inventory and larger in-store events.
Records With Merritt, at 1614 Westport Road, has a great selection of jazz and international music, and quirky Zebedee's, at 1208 W. 39th St., is a good spot to leaf through used vinyl and overhear stories about that time Zappa played the Cowtown Ballroom back in '72.
Attend a concert
Plenty of great rock acts will stop through this fall, including Sebadoh (Sept. 22, Record Bar), The Head and the Heart (Sept. 24, The Midland), Trampled By Turtles (Sept. 27, Crossroads KC), Enrique Iglesias and Pitbull (Oct. 2, Sprint Center), Temples (Oct. 14, The Riot Room), The Gaslight Anthem (Oct. 14, The Uptown Theater), Ryan Adams (Oct. 15, The Uptown Theater), Mutual Benefit (Oct. 25, The Czar Bar), and Reigning Sound (Oct. 31, Record Bar).
The classical music calendar includes highlights like cellist Yo-Yo Ma with pianist Kathryn Stott on Oct. 16, and The Kronos Quartet on Oct. 18. Both of those concerts are part of the Harriman-Jewell Series and will be performed at the Kauffman Center. Also at the Kauffman Center, Natalie Merchant will join the Kansas City Symphony for a special concert Nov. 15. The rest of the Symphony's concert calendar can be viewed at kcsymphony.org.

Attend an author reading
Thanks to the fine folks at Rainy Day Books in Fairway, Kansas City will be hosting some exciting guest authors this fall at Unity Temple on the Plaza, including actor Cary Elwes (Oct. 19), Billy Collins (Oct. 30), comedians Jim Gaffigan (Nov. 2) and John Cleese (Nov. 12 at the Midland). Visit rainydaybooks.com/event for a full listing.

Other visiting speakers this fall include Jerry Seinfeld (Oct. 11) and Garrison Keillor (Oct. 28), both at the Midland Theatre (Midlandkc.com).
Film festivals
The Kansas International Film Festival doesn't have the cred or visibility of Sundance, but the roster of documentaries, dramas, shorts and foreign films could go head-to-head with any festival out there. From Oct. 10-16, 50 different films will play at the Glenwood Arts Theatre, 9575 Metcalf Ave. Visit Kansasfilm.com for more details and tickets.
The following week, The Kansas City Jewish Film Festival will present a series of films depicting Jewish themes and culture. Visit jcckc.org for more information about the event, which runs from Oct. 11-19.
Explore the West Bottoms
With the stockyards are long gone and many of the brick warehouses are still vacant, a booming antiques community and several businesses have brought new life to the West Bottoms neighborhood. To learn more about the antique stores and when they are open (mostly on the first weekends of the month), visit westbottomsantiques.com.
Also in the West Bottoms this fall are the American Royal, which includes rodeos, barbecue competitions, contests and livestock events, and the long-standing tradition of Haunted Houses — spooky urban theme parks that deliver chills to even the heartiest visitors (for a hefty fee, of course).
For information about the Royal, visit Americanroyal.com, and to learn more about the haunted houses, visit fullmoonprod.com. Wash it all down with a glass of wine at the impressive Amigoni Winery, 1505 Genessee St. Suite 100.
Check out a beer festival
Summer beer festivals abound in Kansas City, but I hold a special place in my, uh, liver, for those held in the fall — probably because the malty or slightly bitter German brews that abound in such settings.
The city's premier Austrian restaurant, Grünauer, is hosting its annual Oktoberfest on Sept. 26 and 27. The music starts at 4 p.m. Sept. 26 and 2 p.m. Sept. 27, featuring authentic Austrian and German food and beers. Kicking off 3 p.m. Sept. 27 is KC Beer Fest at the Power and Light District, and will feature 150 beers on tap for a $35 admission fee.
Finally, the Pitch Weekly's annual "Crafts & Drafts" event brings together some of the region's best craftspeople for a day of arts, crafts and beer from 11 a.m. to 6 p.m. Nov. 2 at the Uptown Shopping Center at 36th and Broadway. It's a good spot to do some craft shopping while picking up some food truck fare and maybe a pint or two.
Visit the Plaza Art Fair
Featuring over 240 artists, 25 food vendors, dozens of live entertainment acts and craft and information booths, the Plaza Art Fair is easily the biggest outdoor arts event in the city.
The Art Fair is also a great time to dine in style, with Plaza institutions like M&S; Grill, Plaza III Steakhouse and Tomfooleries offering special menus at booths on each end of the fair (the roads are closed to cars the entire weekend).
And, of course, there will be plenty of beer and wine to make it a giant block party as well as an arts event. The fair runs from 5 p.m. to 10 p.m. this Friday, 10 a.m. to 10 p.m. Saturday and 11 a.m. to 5 p.m. Sunday.
On Oct. 10-11, WaterFire Kansas City will dazzle viewers along Brush Creek with a multi-sensory presentation of music, fire and water. For a full list of performances, visit waterfirekc.com.
— Lucas Wetzel is a writer and editor from Kansas City, Mo. Know of an upcoming event in Kansas City you'd like to see featured in Kansas City Connection? Email us about it at kcconnection@ljworld.com.